In a fast-moving, flexible and highly competitive business environment, innovation is seen as an important differentiation strategy to gain an advantage for businesses
Looking back on history, almost all long-established businesses have highly innovative human resources, such as Microsoft, Apple, Intel. Vietnamese enterprises have now caught up with the momentum in the world's Innovation Index (GII ranking 2021, Vietnam ranked 44th out of 132 countries/economies and considers innovation a national priority (1). Innovation in businesses needs to be managed in the right direction to be able to create a creative culture, not miss opportunities for development and improve competitiveness.
Innovation and innovation management
Innovation is the source of knowledge generation to improve internal business processes and structures, creating market-oriented products and services that deliver new business outcomes. Although it is now a top priority, identifying the right direction, developing and implementing the most valuable ideas, bringing the highest investment efficiency is not easy.
The circuit approach operates along the value chain, there is a type of innovation that every business needs to build and develop is product innovation and process innovation. Product innovations are new changes or features of a product or service, while process innovation refers to changes in production methods or processes. These two types need to be connected to each other to be able to both improve products while reducing production costs, promoting a more streamlined distribution process, meeting demand faster, increasing revenues and profits, etc.
In the direction of an approach to innovation, characteristics will be categorized according to incremental innovation or breakthrough innovation.
Incremental innovation: involves making consistent improvements to existing products or services over time, such as reducing costs, adding new features, implementing ways to make a product or service more accessible to customers. The increased innovation is most easily noticeable in software updates, in which newer versions offer features built on the old version due to consumer demands.
Breakthroughs: are innovations that refer to a technology whose application significantly affects the way the market or industry operates. Disruptive innovation involves making bolder changes that carry more risk but are also likely to reap more profits. Due to greater risks, larger businesses often ignore disruptive innovation, although history has shown revolutionary innovations, protecting the main long-term business with disruptive innovations. It can be told through the story of 3M tape: 3M adhesive tape was not prioritized by the company when it was just the idea of a laboratory worker, but then this was the main product of 3M for the past 9 decades.
Whatever the approach is, it's important to build portfolios to manage innovation, it's important to scrutinize each item to optimize innovation management efforts at all levels of the business. Innovation management is the process of systematically organizing innovation activities throughout the business. It can also ensure complex, large-scale innovation goals are broken down into manageable goals that different groups of participants can focus on. Often, the best source of creativity is actually in the human resources levels themselves, so businesses need to promote a number of factors such as promoting a culture of innovation internally, in order to achieve both breakthrough and incremental innovation, increasing connectivity in the value chain through effective digital transformation, etc.
7 success factors for managing innovation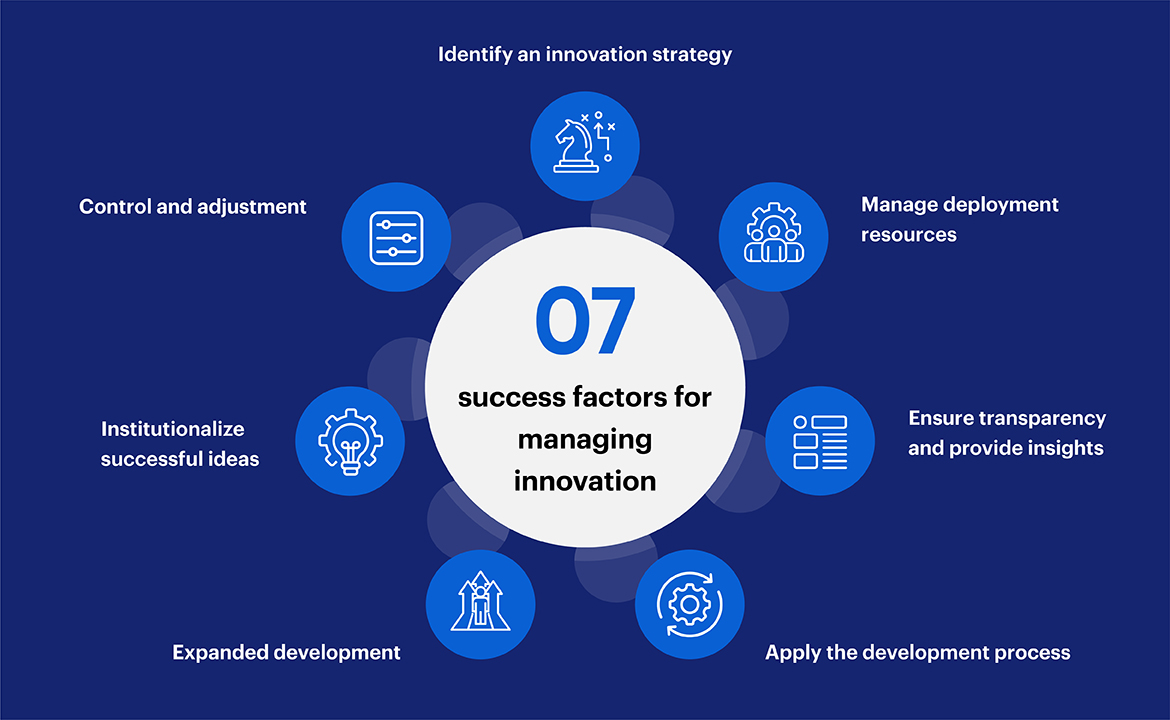 1. Identify innovation strategies
Clearly defining the starting point and path to the expected goal is often adopted through the first question of "Why do we have to innovate? What and how do we need to innovate? We all need innovation, but what are the forces that need urgency now and how is the roadmap?" v.v. Then, not only is the potential gradually seen but the reasons and urgency are gradually peeled off to give clear and feasible roadmaps. No one will see the need to change without realizing the urgency of deadlines and efforts to achieve the goal.
2. Management of deployment resources
After determining the strategy and roadmap, it is necessary to come up with an implementation plan. HR levels need to be involved in this process to ensure consensus. Everyone understands the reasons and goals of innovation. To work on the most effective innovation management principles, there are some prerequisites as follows:
Effective strategic implementation management
KPIs are linked to innovation for managers from the middle level
There is enough budget and resources.
Linking inter-departmental functions
Changing the culture encourages and supports innovation
Willing to experiment and learn, take risks
If the organization does not have the right prerequisites then it will be difficult to really start implementing the newly acquired knowledge.
3. Ensuring transparency and providing detailed information
Since departments can work locally, especially when they work across many different geographic regions, it is often difficult to grasp the true overview. Not having the right overview makes the work will have to be completed many times because if you do not know your colleagues in another unit are performing the same challenge, you will not know to connect to cooperate to reduce the effort and deployment costs.
To provide transparency, you'll need to start sorting so that people can easily search and find the type of project they're looking for. This is the starting point for innovative portfolio management. FPT Digital has advised many businesses to implement Innovation Hub – a gateway for innovation for all levels of human resources in the organization.
4. Application of development process
It is necessary to distinguish between "standard" product development for less risky projects and "new improvements" for projects with more breakthrough transformations. It is important to focus on the process to get results, not to ensure the operation. In other words, it's common to build frameworks so that fresh ideas have test space, not just rigid process oriented toward safe ideas.
5. Expanded development
It is a fact that the best, most feasible ideas may not come from the management level, but from people in the field of interacting with customers and other stakeholders, to promote creativity, with multidimensional perspectives, expanding the look, It is necessary to work with diverse and multifunctional teams. The team must be able to stay in the right place of their future users and have a deep understanding of the challenges that users face. At the same time, businesses need to be better organized to source ideas from internal (employee) and external channels (customers, suppliers, partners, etc.). For example, FPT Digital's Innovation Hub kit is open to all employees and stakeholders who can access 24/7 to attract all creative ideas anytime, anywhere easily.
6. Successful institutionalization of ideas
The change of a business requires the efforts of the whole team, and but success needs to be protected and strengthened by the policy. Institutionalizing the "roadmap" as well as the implementation of that process must always make the criterion of "continuous improvement" a top priority. Thereby helping to always develop the inventory of initiatives, as well as anchoring them for a long time, becoming a very valuable intangible asset of the business.
7. Control and adjustment
The process of innovation can always be an existing process and the best methods in the organization. But after that it will be used only as input information to be able to innovate to create a new process even better. Finally, listen to feedback and repeat to adjust. Doing all of this takes time to improve or adjust the exploited processes.
Innovation will optimize and develop new resources in the comprehensive digital transformation program so that enterprises can improve the efficiency of using assets, human resources, increase productivity, more effectively monitor the production and maintenance process of products as well as transform new business models from the traditional production and business industries.
Reference source:
(1) Ministry of Science and Technology: Global Innovation Index 2021: Vietnam leads the group of countries with the same income level