Seafood companies around the world are aiming to build a smart farming model with the help of advanced technologies to increase the production and quality of livestock.
Agriculture in general and fisheries in particular have completely changed over the past decades. The advancement of machines, tools, and farming methods has made farming more efficient. Seeds, feed, and probiotics are constantly being improved, helping farming businesses to increase production. In recent years, the seafood industry, which is considered a traditional industry with limited application of technology, is starting to enter a new revolution mainly based on data and connection. Technologies such as robotics, sensors, artificial intelligence, AR/VR, etc. can promote an increase in aquaculture production and help build a sustainable development model. 
According to research by FPT Digital, 10 of the top 10 seafood companies in the world have been applying IoT and AI in farming and production. To adopt successfully these technologies in farming, these companies have started by researching and applying devices which are able to operate and transmit data by connecting protocols in the aquatic environment. 
Popular applications of technology in new generation aquaculture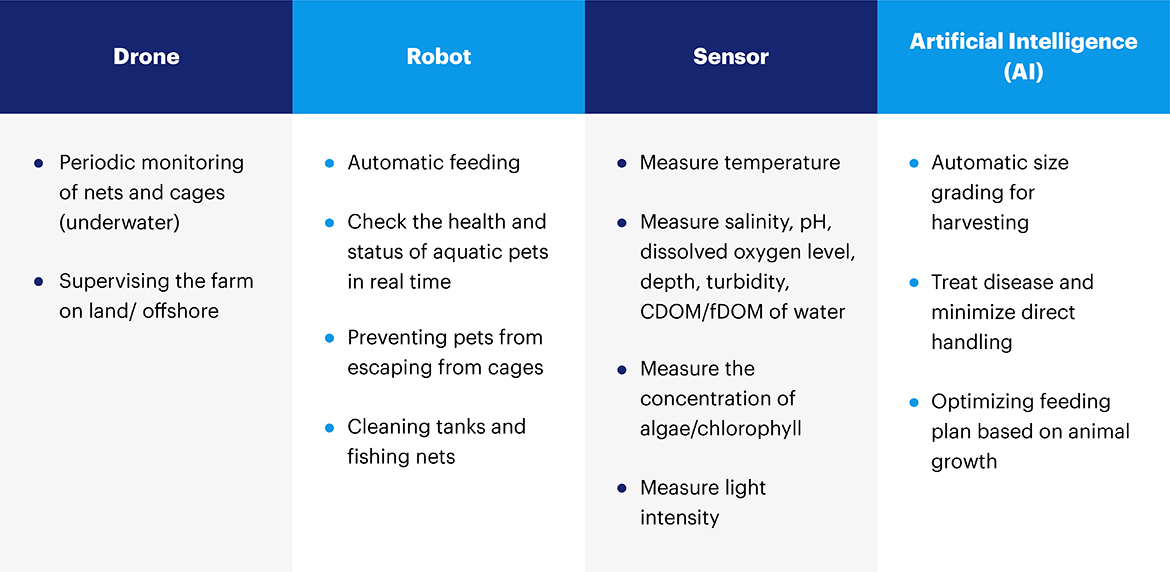 To be able to deploy a smart farming model successfully based on advanced technologies: Firstly, farming units need to identify the operating components of the farming system. Second, it is necessary to build an information technology infrastructure to ensure the connection and operation of equipment in the aquatic environment. This article will mention how to approach the smart farming model of seafood companies that have been implemented, in order to provide a reference overview for businesses before starting to build a new generation farming model. 
See more: Ứng dụng chuyển đổi số trong ngành nông nghiệp 
1. Components of the 4.0 aquaculture model
To operate the Aquaculture 4.0 model, the following components are required: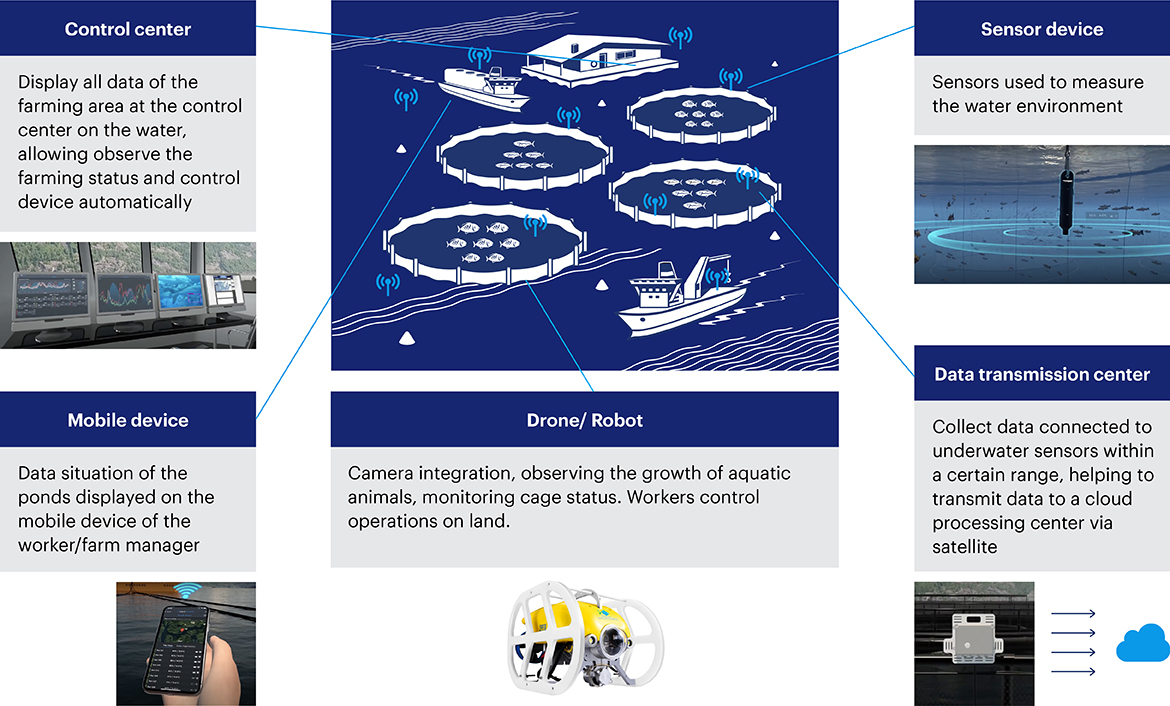 Sensor device

: is used to measure the condition of the water environment in the grow-out pond. This device can be fixed underwater at each pond at different depths, directly connected to the data transmission center. Using sensors fixed at each pond helps data be transmitted in real-time. Some sensors today have a lifetime of up to a year and a depth of up to 100m.

 
 A simpler form of sensing device is a mobile sensor. Workers will periodically measure the condition of the water by dropping the device in the pond. The parameters are then displayed on the controller or via a Bluetooth connection on the phone/tablet. After that workers will send data to the center. However, this type of device will have a certain delay in updating information and still depends on human activity. 
Data transmission centers

: also known as data transmission hubs – directly connect to wireless/wired sensor devices in the pond, helping to transmit data to the cloud processing center through a real-time internet connection.

 

Mobile devices

: including smartphones or tablets. The workers or pond managers will receive measurement data from the sensor in real-time, thereby capturing each pond's information in a timely manner.

 

Operation Center

: Allows the operator to monitor the entire farming range. This center can be located on a floating house in the farm (with offshore farming) or in office buildings. Currently, many units have provided operating solutions that integrate advanced data analysis and artificial intelligence, allowing warning/alarm in abnormal cases, and optimizing and controlling remote machines. (e.g. feeding machine).

 

Robot/Drone

: AUV (Autonomous Driving Vehicle) with camera integration, controlled by humans on the water surface, assisting in observing the growth of livestock, monitoring cage status – in case the cage is open/leak…

 
2. Networking and Energy
In order to deploy the smart aquaculture model, it is necessary to focus on building a connected network in the aquatic environment as well as ensuring the equipment has enough operation energy. The model described below is applied to offshore farming. The onshore model also works on the same principle but easier to operate due to the unlimited use of wires.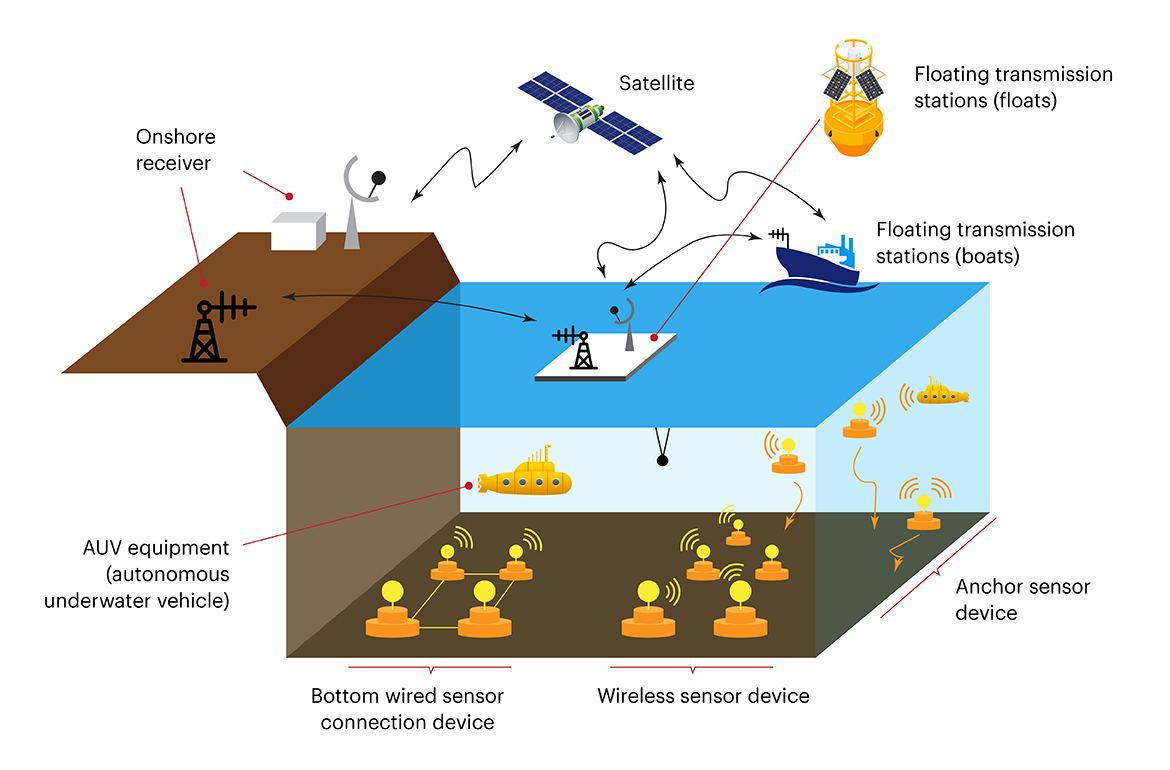 Underwater connections are usually static with the sensors permanently attached to the cage. Sensors can also attach to boats or floats. But the results are less accurate due to the limited connectivity. In this case, this is usually used in temporary situations because the movement can affect the network connection. Static sensors often give more accurate results than mobile sensors. 
To ensure the energy source runs stably, communication stations (located on floats or ships) as well as sensor devices are integrated with solar panels. The floats also act as a data transmission center, helping to transmit data directly or via a satellite connection to the receiver on shore.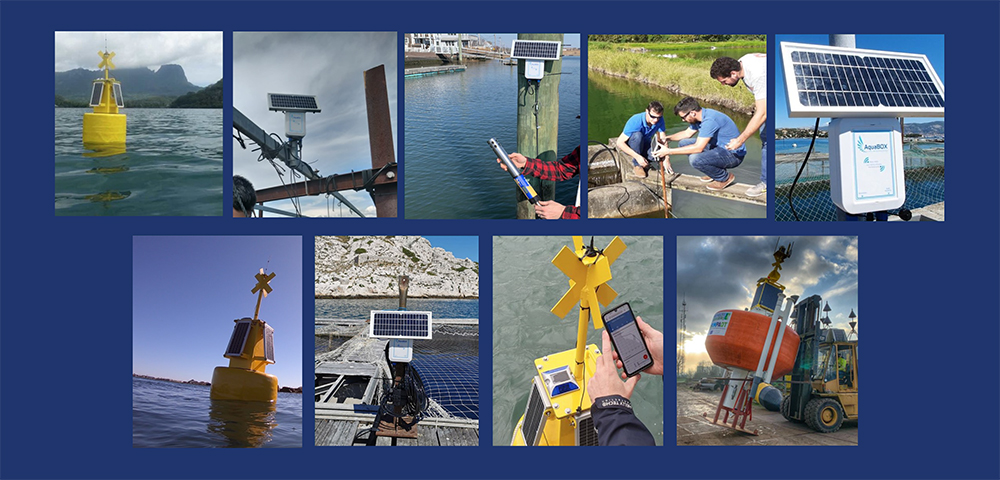 3. Not just an aquaculture unit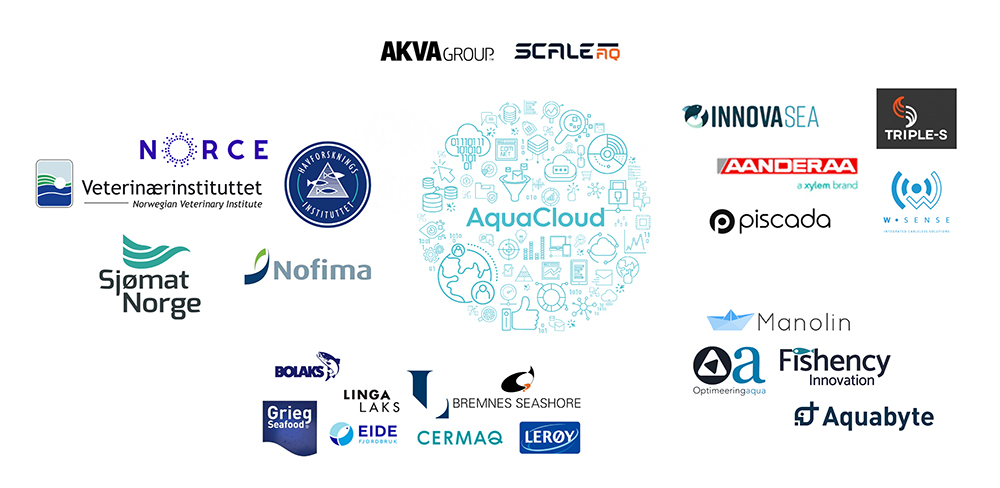 Currently, smart aquaculture service and equipment providers are not only technology-based but also aquaculture businesses.  
One such businesses is Cermaq (Norway) – the subsidiaries of Mitsubishi Corporation, which is not only successful as one of the leading aquaculture companies but also succeed as an excellent technology applicator in aquaculture with the iFarm project. Using artificial intelligence, machine learning, and cage devices designed for salmon farming, Cermaq is able to identify individual fish in the cage, categorize fish by size, and monitor their individual health. Cermaq, coordinated with Biosort and ScaleAQ – 2 solution implementation units for Cermaq itself, aims to provide smart farming products and services to other aquaculture companies, contribute to generate new revenue from technology. 
This shows that the 4.0 aquaculture model not only helps businesses significantly improve productivity and quality of farming but also contributes to opening a new direction in terms of outstanding and potential business models. 
Reference  
(1) AquaCloud. 2020 NCE Seafood Innovation