The application of technological advancement to all activities of an organization in order to achieve high performance and promote revenue and brand development is known as digital transformation. New technology alone will not suffice for a successful digital transformation. Thien Long and Nghia Nippers Corp. are two examples of early digital transformation accomplishments.
Saigon Entrepreneur Magazine introduces the experiences of these businesses in this article through the sharing of two female leaders.
* As a business leader in the digital transformation process, can you share your company's digital transformation successes and challenges?
Ms. Tran Phuong Nga – CEO of Thien Long Group: Thien Long has always emphasized the importance of technology application and digitization in determining enterprise competitiveness and development. As a result, investment in these applications was made years ago. This process, in particular, was accelerated following the pandemic, and it has resulted in numerous very positive changes. Thien Long's operations are now run on SAP-Hana, a core technology system that is integrated with satellite systems, and all applications are linked to ensure smooth and instant data flow. People and technology are inextricably linked in digital transformation.
As a result, in addition to technology, Thien Long has prioritized the creation of "One Thien Long" in order to unite all employees in digital transformation. The most important thing is that Thien Long's team now feels "need," "indispensable," "hope," and "love" for digital transformation. Instead of relying on leadership, departments set their own goals and motivate themselves. Thien Long's team is actively developing many operational processes in the digital transformation roadmap to improve daily work efficiency.
Ms. Nguyen Tuong Vi – Deputy General Director of Commerce, Member of the Board of Directors of Nghia Nippers Joint Stock Company: Nghia Nippers Corp. is currently focusing on coordinating the development of a digital capacity strategy with practical business strategies. At the same time, we identified, selected, and implemented a number of potential initiatives to ensure our goals of increasing revenue, reducing costs, optimizing assets, and limiting risks.
In terms of business, our promotion of e-commerce channels reflects digital transformation. We consider e-commerce to be a critical component of the company's digitalization strategy. As a result, we invested in a methodical business strategy, continuously optimizing operational efficiency, and ensuring brand development through exclusive promotions and customer care programs for this channel. For distributors, we use a DMS system to automatically synchronize data from agents, allowing us to more efficiently regulate goods from the market.
Nghia Nippers used the Smart Factory model in production, controlling the performance of each stage of the manufacturing process. Nghia Nippers aspires to grow and gain a larger market share in the international market; as a result, we have developed our own processes to track international business orders in real time, allowing us to improve productivity and meet market demand more quickly.
To improve operational efficiency, Nghia Nippers implemented an ERP application, set up a real-time revenue tracking tool, and systematized the budget and performance of each department (Accounting, Human Resources, Marketing, and so on).
As a result, Nghia Nippers has established a new scale of growth. The company's daily output has increased by 46%, from 26,000 to 34,000 items. Revenue exceeded the goal by 126%. Sales are also showing signs of sustainable growth in the first quarter of 2023.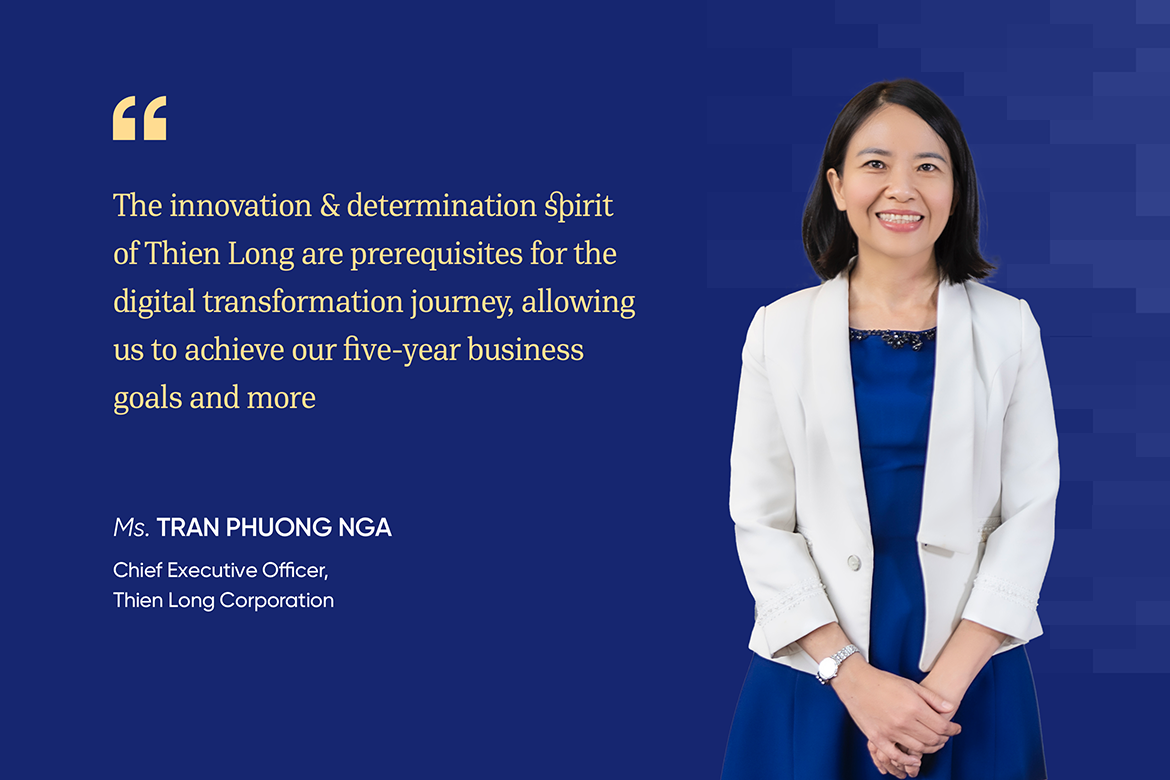 * You must have overcome difficulties or hardships in order to achieve your current successes. What were the most significant challenges you faced, and how did you overcome them?
Ms. Tran Phuong Nga: Thien Long is a large corporation with extensive operating procedures and standards that have been developed and implemented over the last 40 years. As a result, changes in operation as a result of digital transformation necessitate team consensus in order to be quick and effective. That is, to smoothly implement new habits and ways of working for a large number of people.
We began by collaborating with the leadership and management levels, as well as FPT Digital, to develop a digital transformation roadmap. The roadmap included staff training and development programs on the significance of this transformation, as well as an assessment of the organization's adaptability and flexibility when implementing the transformation. This is especially noteworthy given Thien Long's efforts to promote diversity and integration within the organization.
Furthermore, the investment in technology, including infrastructure, human resources, and technical solutions, was not a small or quick one. So, in order to reduce investment risks, the corporation's financial and information technology teams had to carefully consider the budget and evaluate the appropriate investments for each period to ensure optimal investment efficiency. To make an investment decision, each measure in this category had to be based on the original goal and evaluate the efficiency of the impacts on the company's products, processes, and productivity. However, more decisive action was still required because some long-term investments could not be implemented right away.
Ms. Nguyen Tuong Vi: The first challenge was determining where you are in the process of digital transformation. We invited FPT Digital to participate in the project "Evaluating the Level of Digital Transformation at Kem Nghia Joint Stock Company" in May 2022 to get the right perspective. The two units collaborated to evaluate the company's overall digital maturity in six key areas: customers, operations, strategy, technology, culture, and data. Year after year, the digital transformation strategy is objectively assessed and adjusted.
The issue of information technology infrastructure was the second point to consider. Prior to digital transformation, Nghia Nippers spent a significant amount of money improving wireless wifi, servers, and cloud data to ensure the best bandwidth, ensuring that the digital transformation process was seamless, transparent, and uninterrupted.
The third issue was people. Because digital transformation is a lengthy process that necessitates a great deal of enthusiasm, each employee needed to be trained and specialized in order to understand the new culture and, most importantly, support the business throughout the journey.
* Because of the extensive distribution network and the large number of customers who come from both businesses and individuals, employees must be directly and indirectly involved in the sales process of the business. My question is, how do you approach customers to increase customer satisfaction while also strengthening the company's credibility?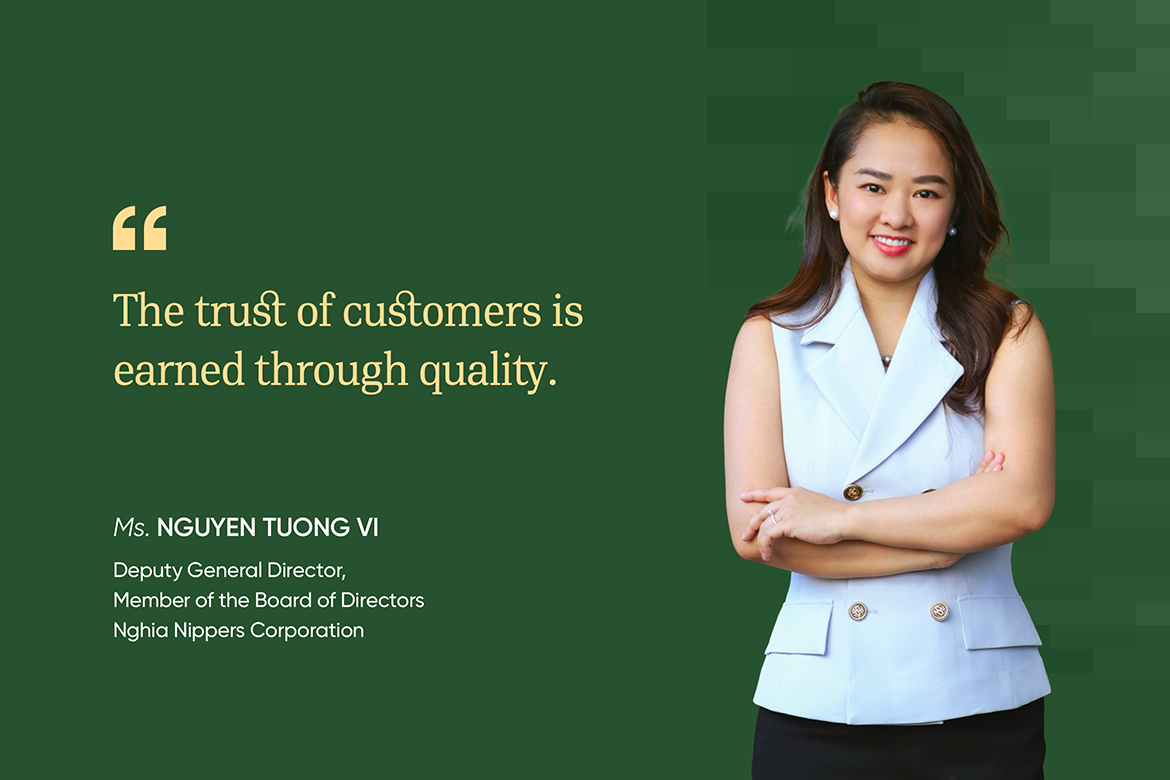 Ms. Tran Phuong Nga:
Thien Long seeks customer trust and satisfaction not only from product quality but also from the purchasing experience. This is a significant challenge because we deliver over 1 billion products to customers each year. As a result, the group actively improves and innovates the sales method and delivery management, in addition to the dedication of officers and employees. Thien Long, for example, is using the distribution management system (DMS) at distributors to help manage the distribution of goods to the market. This system enables managers and employees to capture real-time data on daily sales volume, sales, revenue, liabilities, inventory, and so on in order to support operational decisions and meet market demand.
Thien Long also uses a Warehouse Management System (WMS) to manage the central warehouse at the Le Minh Xuan Industrial Park. The system aids in the control and management of warehouse operations, optimizes order picking and shipping, and ensures that orders are delivered to customers quickly and securely, as well as lowering operating costs for the omnichannel model. Thien Long has been able to provide more and better experiences to dealers and consumers by combining cutting-edge technology with a cohesive team focused on the customer.
Ms. Nguyen Tuong Vi:
Nghia Nippers' digital transformation roadmap is built around a single point of view: determining a possible, long-term vision and analyzing the business's practical operating model. We are well aware that digital transformation entails more than simply investing in and implementing information technology; it entails a comprehensive and profound improvement in order to capitalize on opportunities and capitalize on technological advancement. This process will serve as the foundation for long-term development. That is the message that our management sends to all Nghia Nippers employees and officers. Furthermore, strategic orientation and changes in technology and processes are always communicated to all personnel in a timely manner, ensuring that each individual is aware of improvements in each phase.
Next, we must recognize that in the digital age, digital transformation is an unavoidable stage of business development. Instead of simply repeating old habits, each employee will have the opportunity to grow as the company evolves. Since then, each person has recognized the significance of digital transformation not only for Nghia Nippers, but also for themselves. That, in my opinion, is excellent staff motivation.
Nghia Nippers' leadership continued to implement the "three-phase" strategy alongside "ideological work." We built the technology and governance platform in phase one, with Nghia Nippers' leaders as pioneers. The second phase concentrated on leveraging digitalization to improve operational and production efficiency while providing an excellent user experience. The third phase assisted Nghia Nippers' leadership in managing and operating data comprehensively.
Women in Technology, produced by FPT Digital, interviews female leaders about digital transformation in order to inspire Vietnamese business leaders, particularly female leaders who are leading businesses through digital transformation.
Source: https://doanhnhansaigon.vn/