Digital Marketing is changing the role of traditional marketing. With the trend of global digitization, digital transformation in marketing is an indispensable thing to compete and grow in digital era.
Turning on your computer and smartphone, you are surprised to see the products that you want to buy, the content that you like to read, the new movie that you want to watch, etc. are shown to you as if these smart devices could read your mind. That is only the surface of the iceberg. Deep down inside the iceberg are research activities of customer insights, which takes place through Digital Marketing campaigns.
What is Digital Marketing?
Digital Marketing is the action of marketing through the internet; in other words, it is a form of promoting products / services through online media channels.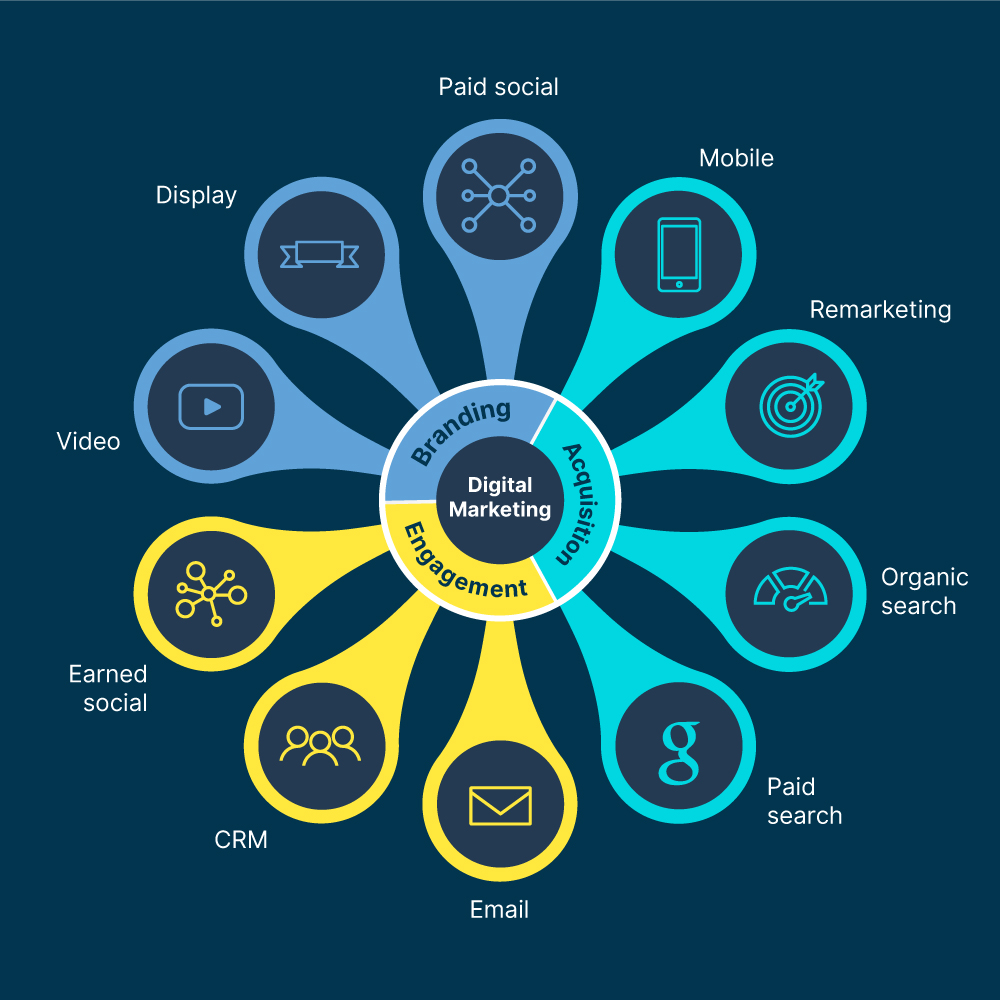 The goals of Digital Marketing are to quickly increase brand recognition, build trust and increase order conversion rates. From a business perspective, sales and profits are the ultimate goal. But from the perspective of marketers, customer data is the most valuable asset.
If before, Digital Marketing activities were based on popular online channels: SEO, Social media, SEM, Email, etc. to plan and implement, then, today, with the rapid progress of technology, digital marketing activities not only brings new customers, but also creates differences from analyzing, tracking customers' behavior and preferences to consumers personalized marketing for products/services of the business.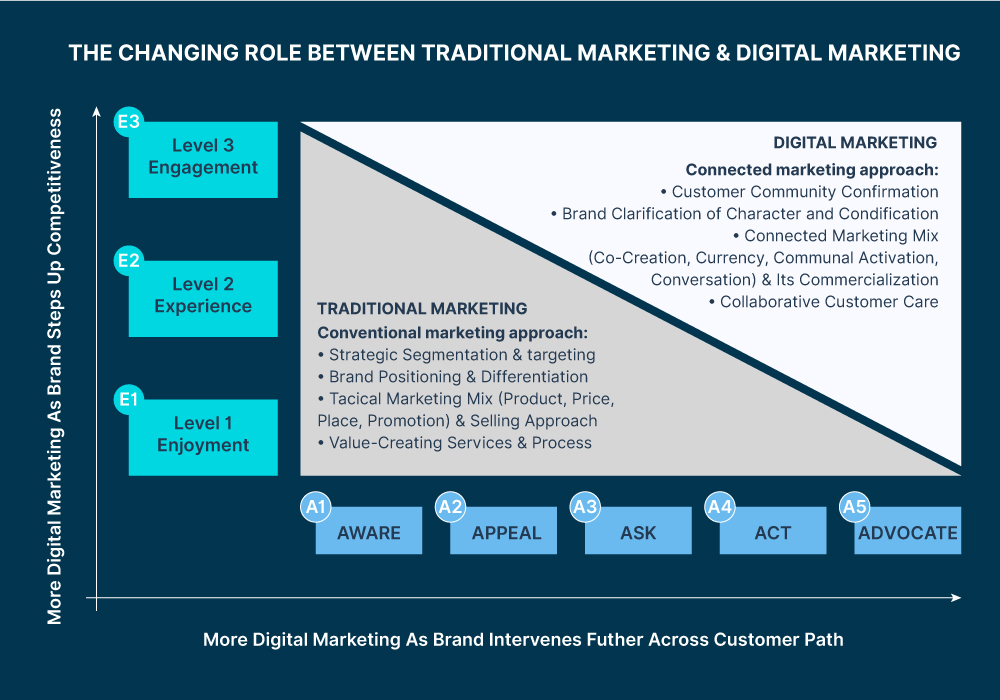 Trends in Digital Marketing
The growth of the internet is the foundation for the proliferation of digital media channels. As of October 2019, there have been nearly 4.5 billion internet users globally (accounting for 58% of global population), which is 400 million users higher comparing to the same period in 2018(1). In particular, the trend of mobile phones and social networks also grew robustly respectively by 2.4% (increasing the number of mobile phone users to 5.15 billion, accounting for 67% of total world population) and 9.6% (rising the number of social network users to 3.72 billion, accounting for 48% of the total world population).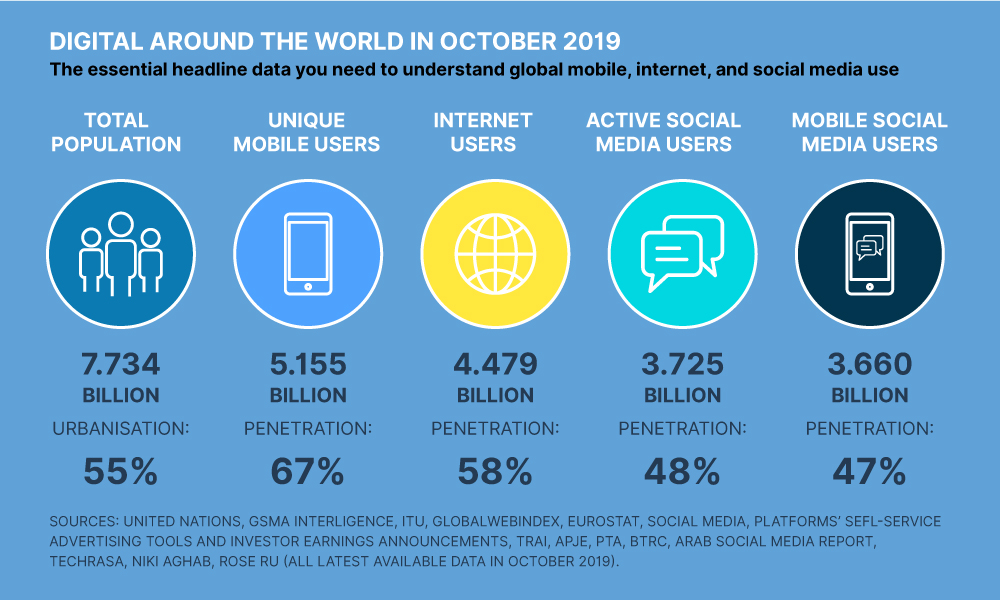 A digital world formed with citizens whose lifestyles, habits and hobbies are different from traditional generations. The proliferation of digital media channels and social networking platforms makes it easier for today's consumers to share information, express their expectations about product and service quality. If businesses used to be the factor influencing user decisions, then today, impact of communities/people around them on both online and offline channels is the base for their shopping behavior.
The source of data about each customer's "touch points" will become richer. Research shows that, by the beginning of 2020, an average person will create 1.7 MB digital footprints (a digital footprint is the term for the process of digitizing internet activities of consumers, from swiping ATM cards, each time web-surfing or clicking on ads, etc.) per minute(2). This is a challenge for marketers to change their approach to customers, change traditional marketing practices through the application of emerging technologies such as AI and Machine Learning to cultivate tactics, develop digital footprints; thereby identifying detection models and trends while forecasting business results.
In a digital economy, the competition between businesses is more fierce than ever. It is no longer a race for big fish to swallow small fish, but to compete for speed: whoever is faster will win. The motivation here is nothing more than the application of technology to gain competitive advantages through hyper-personalized campaigns and especially real-time data analysis.
Most read article

Digital Strategy 08/12/2023
Digital marketing transformation – The vital element of the business
Future marketing communications will create a comprehensive transformation within the organization by integrating and synchronizing digital platforms into operational systems, optimizing data management efficiency, e-commerce and multichannel user experience.
A recent study showed that the marketing activities budget shifted from media to MarTech – platforms and tools that serve marketing and AdTech – advertising technology with the goal to increase efficiency and conversion rates, up to 30 – 40%(3). In addition, the growth in digital marketing spending continues to outstrip traditional advertising. Marketers plan to spend 12.3% more on digital advertising in the next 12 months, while traditional advertising spending will drop 1.2% comparing to the same period(4).
In this context, a marketing transformation with a focus on digital transformation is the door that opens up opportunities for businesses to professionalize the operating system and promote business efficiency.
The impact of digital transformation on marketing(5)
Digital transformation in marketing helps optimize the usage of digital channels to gain deeper insights and improve customer journeys.
What will the marketing department be like when applying digital transformation?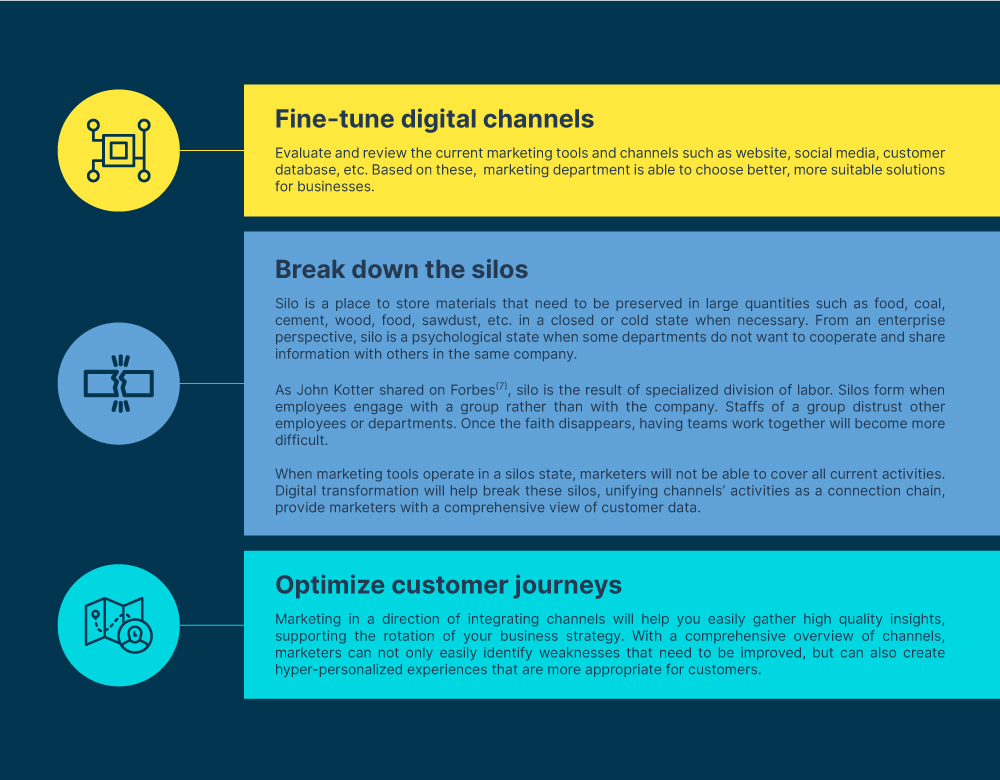 Continuous effort
Digital transformation is a journey, not a destination. To maintain the development requires improvement and continuous renewal of the system. Keeping up-to-date with the latest marketing trends and taking bold steps will put your business brand at the forefront of the digital age for years to come.
Reference sources
(1) We are social. 2019. The global state of digital in October 2019.
(2) Express Computer. 2019. Transformation of digital marketing through technologies like AI & data analytics.
(3) Ogilvy. 2019. VnEconomy. Ogilvy discussed the transformation of marketing communications.
(4) Deloitte. 2018. CMOs to increase marketing analytics spending 200 percent in three years.
(5) Erin O'Malley. 2019. Boston Digital. What Is a Digital Transformation in Marketing?