FPT Digital partnered with the Vietnam Agile Community to host the Agile Vietnam Conference 2023, the country's largest annual conference on Agile practices. More than 40 national and international experts in Agile & Digital Transformation will attend the conference, and many valuable practical lessons about agile transformation for businesses will be shared.
During a time of constantly changing markets, especially under the influence of modern technologies, business agility becomes more necessary than ever. Business Agility helps businesses to quickly adapt to market changes, flexibly respond to customer needs, and effectively adapt and lead changes to save costs, increase profits, and create competitive advantages for business. Therefore, Agile Vietnam Community, Agile Academy, VCCorp, FPT Digital, CodeGym organized Agile Vietnam Conference 2023 with the main theme of Business Agility with accompanied by typical agile transformation and innovation businesses such as SupremeTech, Atware, TymeX, PMI Chapter and the world's leading Agile consulting units such as SAFe Inc, Classmethod, CI Agile, SEMDI.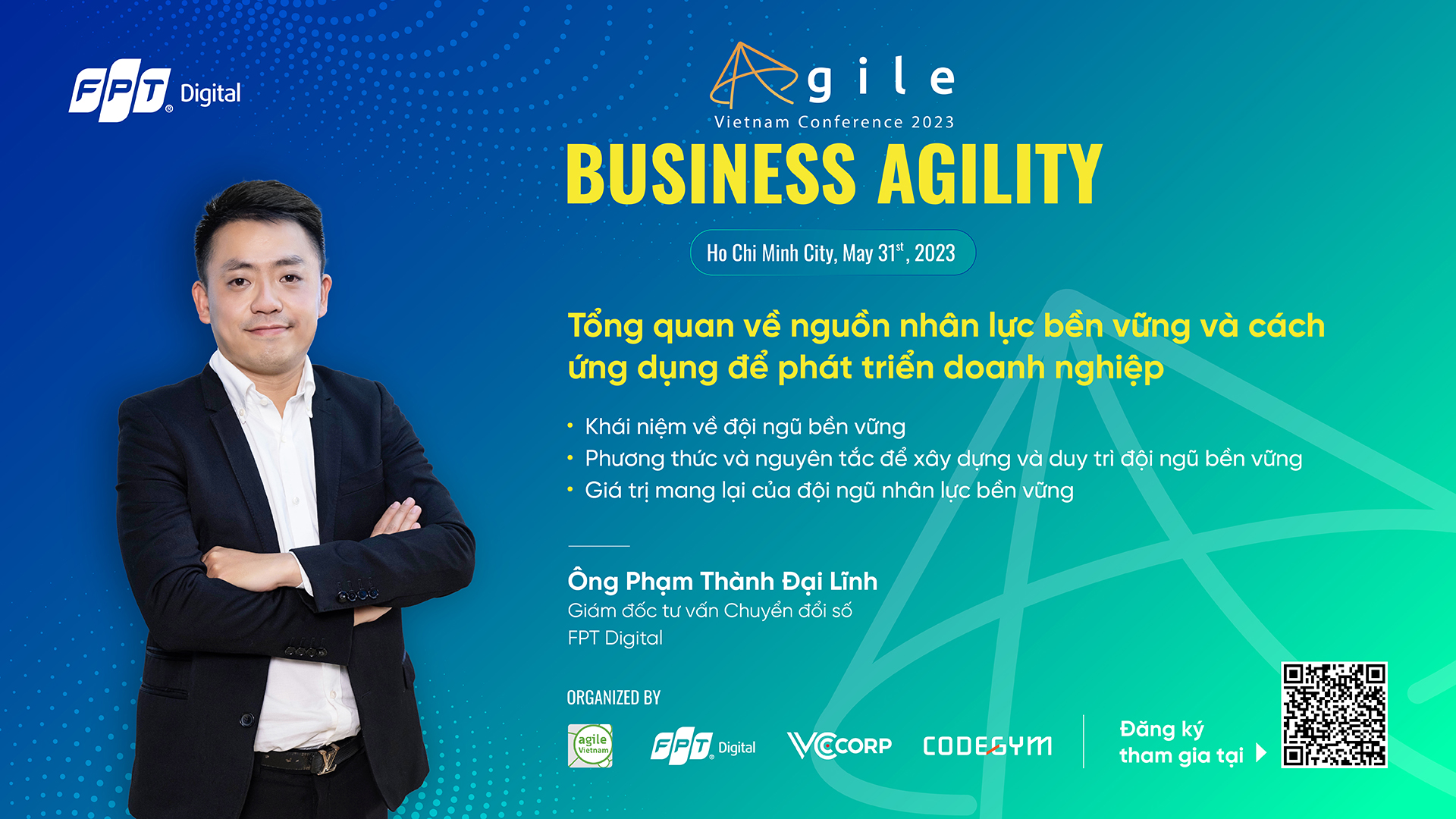 During Agile Vietnam Conference 2023, Mr. Pham Thanh Dai Linh – FPT Digital Consulting Director shared about sustainable human resources and how to apply them to develop businesses. With experience in IT consulting and Digital Transformation training for many large companies and corporations, Mr. Linh will help clarify the definition of a sustainable team and how to build and maintain a team. Sustainable team – a question that many managers are interested in. Large enterprises in the world have gained value by successfully building a sustainable workforce. 
The conference takes place from 8:30 A.m to 5:30 P.M on May 31 at Saigon Prince Hotel, No. 63 Nguyen Hue, District 1, HCMC. The conference is going to be organized in an agile way, with 32 presentations presented simultaneously in 4 conference rooms for attendees could choose their own topics of interest and participate in lively listening and discussion.
To attend the event and meet, exchange, and learn with leading experts in Agile and digital transformation as well as grasp transformation methods and experiences for businesses, please register to attend the event. according to the following information: 
Agile Vietnam Conference 2023: BUSINESS AGILITY
Time: 31/05/2023

Location: Saigon Prince Hotel, No. 63 Nguyen Hue, District 1, HCMC

Hotline: 0865 935 631 (Ms Hanh)

Register now at: https://agilevietnam.vn/