Technology is changing and evolving with leaps and bounds, but the real change lies not only in the technology part but also focused primarily on human change. The workforce of the future will be more diverse than ever. That 75% of employees will be millennials, who are more ethnically diverse than any group we've ever seen in the workforce.
What are digital resources and why is it an urgent need in the world?
Digital transformation is happening at an unprecedentedly fast pace, bringing new opportunities to drive businesses to grow tremendously. Business leaders have noticed a positive impact from digital transformation, especially digital human resources. Many jobs will be automated with advanced robots and artificial intelligence that will drive major changes aimed at improving employee productivity and business efficiency. Work and workflows will be reorganized, employees will be freed up to focus on tasks that bring greater value to the business. Meanwhile, data and analysis of labor resources will help businesses make business decisions quickly, fully informed, based on the evidence of service, productivity and efficiency.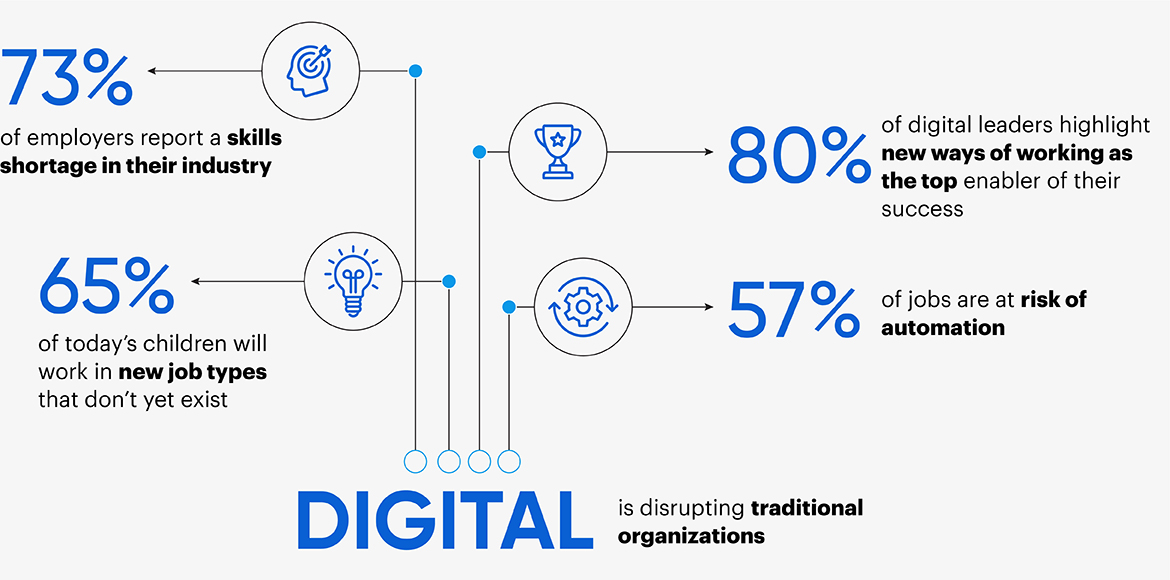 The COVID-19 pandemic is a push to create a fundamental change in the working environment, driving the need for a highly adaptable and flexible workforce that helps businesses remain strong and grow regardless of the major fluctuations. According to Mercer's "Global Talent Trends 2021" study, the financial impact and work-life disruptions caused by the pandemic have prompted employers in Southeast Asia (Indonesia, Thailand, Malaysia, and the Philippines) to focus on identifying future human resource needs in a variety of simultaneous ways such as restructuring (48%) and actively retraining human resources by 2021 (39%) to be ready for business. 32% of businesses prioritize the regeneration of sustainable business, i.e., the responsibility of the organization to the community, ensuring the interests of consumers, employees, and the environment are also maximized (2)(4).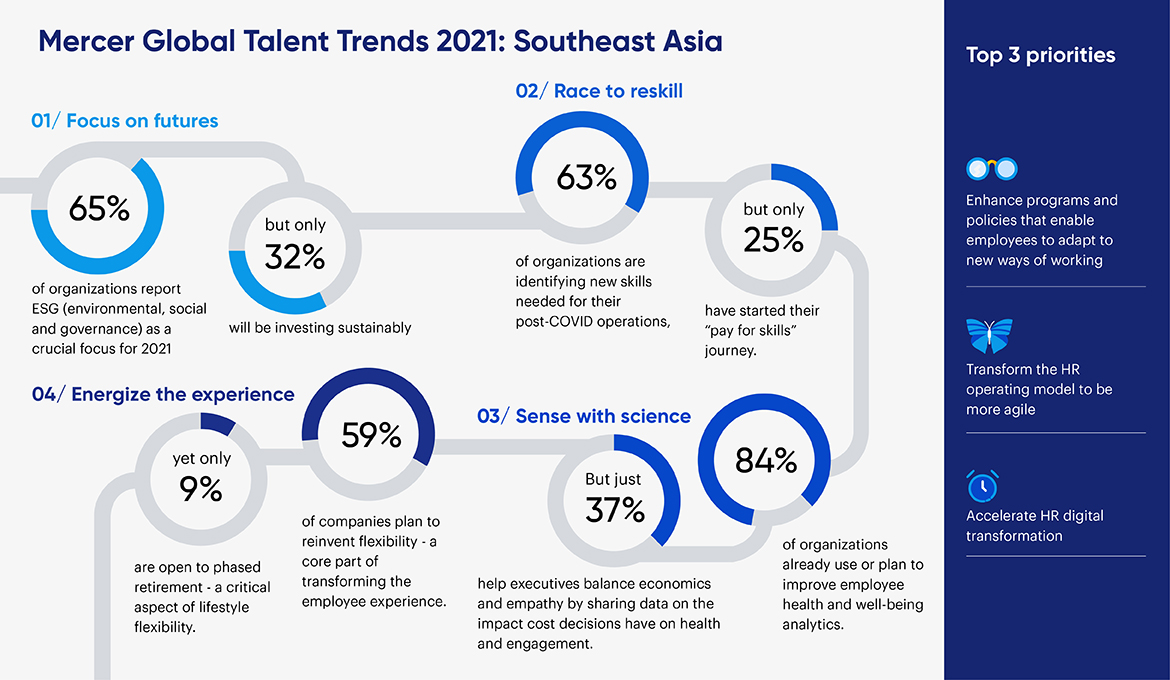 In Vietnam, the government has issued decrees and guidelines on Vietnam's digital transformation with the goal that the digital economy can account for 20% of the national GDP by 2025, striving for 30% by 2030. One of the big goals by 2025 is for 100% of businesses to raise awareness about digital transformation. It can be said that this is an urgent period to train and develop digital resources to continue to meet all businesses and ministerial agencies, helping to prepare for the outstanding development in the future of Vietnam (5).
How can digital human resource building be started?
The need for training and retraining digital human resources is huge in society. The workforce should be focused on training and retraining including the workforce is working in both the private and public administration sectors; Young students – the adjacent workforce; Students at all levels familiarize themselves with digital knowledge and skills ensuring future human resources can adapt to the future from technology and digital transformation.
In order to carry out the above activities, there are also many models in the world in which most of them focus on training and towards common points in the development of personnel in the public sector and human resources in digital transformation application enterprises. Workers need to acquire technical skills as well as a combination of digital competencies (e.g., big data analytics, security networks, social media) with soft skills to improve responsiveness, replacing flexibility between economic and professional sectors.
The training process is usually divided into 3 levels so that it can be easily evaluated and developed in the future (1)(3):
Basic: Basic digital skills provide the foundation for the use of technology. At this level, including the use of keyboards, control screens to perfect basic operations; install and use applications and transactions on the Internet such as filling out the information, sending and searching for necessary information.
Intermediate: Intermediate skills that allow people to use digital technology in more meaningful and beneficial ways. In contrast to the more common basic skills in all professions, a person will need different intermediate skill sets depending on their career goals and needs.
Advanced: Professionals use highly specialized, advanced skills in professions such as computer programming, software development, data science, and network management. Like intermediate skills, advanced skills and jobs require them to be constantly developed in quantity as well as quality to achieve the highest efficiency.
In summary, public administration units and businesses need to attach great importance to the recruitment, training, and retraining of all employees in this Industrial Revolution 4.0, if they do not want to be abandoned in the next phase. The HR management unit should be viewed as an internal consultant to senior management and the board on the impact of the workforce in the digital transformation process. At that time, the HR department can also ensure the design and implementation of a governance structure that allows to accelerate decision-making and come up with consistent processes, tools, and metrics in areas such as benefits management, work management, etc. As digital transformation continues to be an important strategy for more and more organizations, continually developing and training people to help the organization continuously improve its value is something that needs to be done drastically.
Reference sources:
(1) ITU Academy. 2020 Digital skills assessment guidebook
(2) AcandAsia. 2021 Defining future workforce needs, upskilling and reinventing sustainably top of mind in 2021 for firms in Southeast Asia
(3) Weforum. 2018 What employees today future really want personalization
(4) Manpower. How COVID-19 is Accelerating Digital Workforce Transformation
(5) Labor newspaper. Digital human resources driving the Vietnamese digital transformation ship