A Smart city is a new urban model that has appeared in the world and also started to be familiarized in Vietnam. The trend of building shopping malls has increased rapidly in recent years thanks to the remarkable development of modern technology applications.
The Covid-19 pandemic has shown an important role in planning a city that is sustainable, safe and flexible in all situations.The Smart city is managed, effectively managed and unified in economic, social, transport, education, environment, etc by effective solutions, monitored in real-time to save the most resources and bring the highest benefits to the people.
What makes the city smart?
According to the European Commission, Smart City is a place where traditional networks and services are implemented more efficiently with the use of digital solutions for the benefit of people and businesses.
A smart city goes beyond using digital technologies to make better use of resources and minimize waste to the environment. It means smarter urban transport networks, upgraded water supply and waste treatment facilities as well as effective ways of building lighting and heating systems. It also means a more interactive and responsive city government, safer public spaces, and meeting the needs of an aging population (1).
There are many definitions in the world for smart cities, but the closest definition to Vietnam, according to Phan Thanh Son, FPT IS's Director of Business Development, is "an innovative city that uses information technology (IT) – communication and other means to improve the quality of life, operational efficiency – urban services, competitiveness, while ensuring to meet the needs of current and future generations in economic, social, environmental and cultural aspects" (2).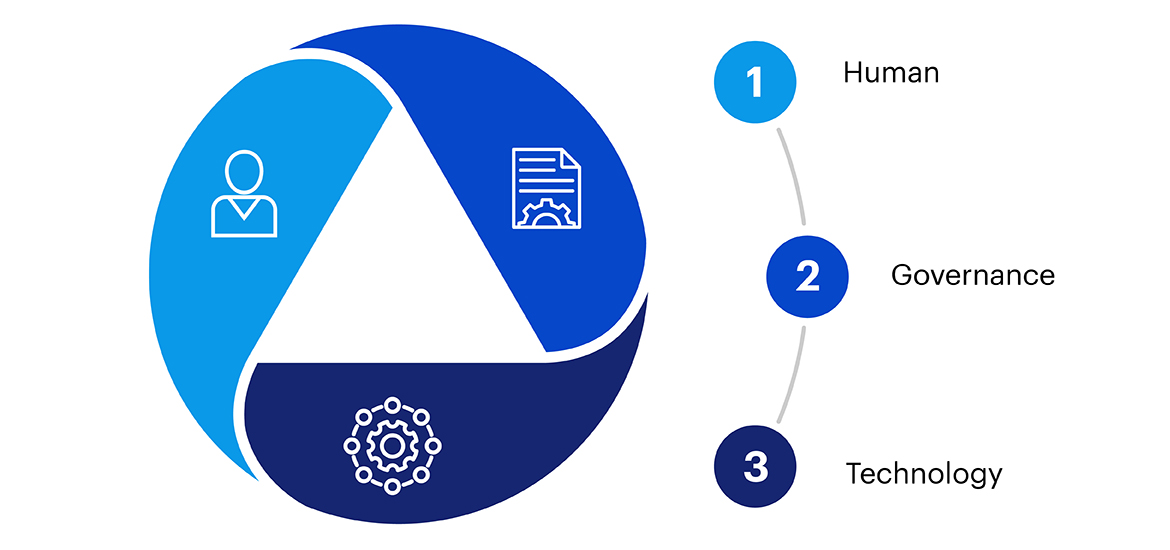 Three core elements will play a major role in making a smart city: technology, Human, and governance (3):
Technologies such as AI, cloud computing, and IoT connectivity will help solve the difficult problems of infrastructure services (including city governance, education, health, public security, real estate, transportation and utilities) as population pressures focus on cities increase.
Human resources are an important component of the development of smart cities. Cities that plan and provide good education services from many levels will create conditions to improve the population. Since then, the proportion of people with high-level university degrees has been increased. Aiming to build human resources capable of mastering digital equipment, operating it in the production and business process and other activities of the economy.
Governance: Combining IT and communication so that stakeholders can organize the design, planning and implementation of new and advanced solutions. As a result, the government has the tools for managing the city in a flexibly and sustainably.
The situation and smart urban trends in the world
Currently, in the world, most countries are still in the early stages of smart city development with experimental projects or only applied in a small part of the city. The implementation of the new model also depends on the financial potential, adjusted according to development and technological needs.
According to the IESE Cities in Motion Index 2020, there are currently 174 cities in the world ranked as smart cities according to economic, environmental, governmental, human and international integration, transport, social connectivity, technology and urban planning.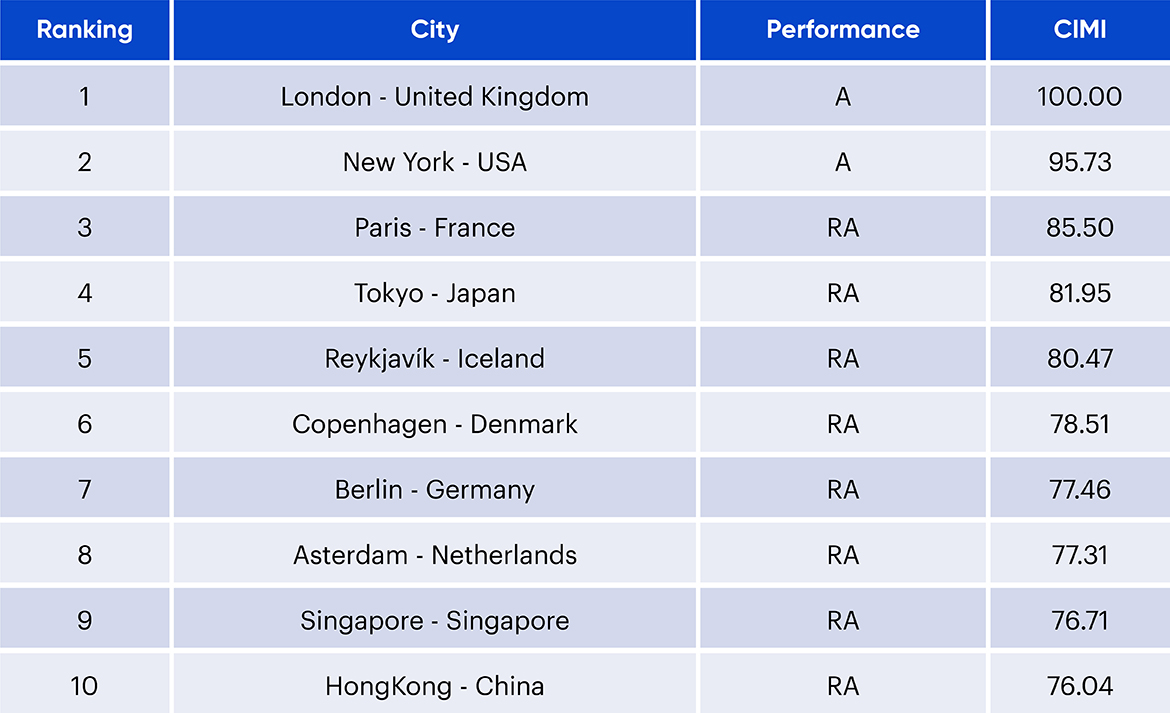 Accordingly, in the Top 50, almost all European countries lead the rankings with 27 out of 50 countries. This was followed by 14 cities in North America, five in Asia and four in Oceania (5).
London has continued to hold the top position since 2017 when it achieved high ratings in all aspects. The reasons for London to become a smart city differently from other cities are a user-centric strategy, improving community digital skills, improving people's quality of life, and becoming a green city.
London is also at the forefront of CleanTech clean technology products with sensors mounted in lampposts and Google Street View vehicles to collect information about air quality. The data will help them find out the causes and effects of pollution. At the same time, the city is equipped with advanced energy infrastructure to reduce emissions and reduce temperature increases.
When it comes to transport, London has deployed a driverless tram system that automatically transports passengers between stations at Heathrow Airport on a 3.9km route in just five minutes. The zero-emission transport system has helped London eliminate 70,000 buses a year, equivalent to 100 tonnes of carbon dioxide emissions.
The focus on minimizing negative impacts on the environment is a priority for the foggy city with the goal of creating a green city that attracts many talents. London recognises that talented people will often choose a place to start a business not only because of the good health system or school but also the fresh air, green spaces, advanced transport networks and diverse public services. In addition, the 'London Datastore' open data platform – a pioneering program that shares free data for individuals and businesses has brought the greatest benefit to promoting creativity in the city. That's why it's home to more startups and programming professionals than other cities (6).
The status of smart city development in Vietnam
The trend of developing "smart cities" is increasingly popular and widely known in Vietnam. Many provinces and cities have started planning to implement after the Project on Sustainable Smart City development in Vietnam from 2018 to 2025 and oriented to 2030 (referred to as Project 950) approved by the Prime Minister. Up to now, 38 out of 63 provinces and cities under the Central Government have been implementing the project for the whole province or some municipalities. Most provinces are in the early stages of building public administration centers and implementing online public services. Some localities have achieved initial positive results such as Ho Chi Minh City, Binh Duong, Bac Ninh, etc.
Ho Chi Minh City is one of the best examples in the application of smart city utilities through the process of deploying 4 major pillars:
Building a shared data warehouse and developing an open data ecosystem as a foundation for the implementation of information systems and applications to serve people, businesses and management and executive direction
Building a center for socio-economic simulation and forecasting for the management of leaders
Building a Smart Urban Operations Center with optimal decision-making tools
Establishment of information security center to protect active cities associated with science and technology (7)
These four pillars are also important goals in three breakthrough programs of Ho Chi Minh City: management innovation, infrastructure development, human resource development and culture in the term of 2020-2025 with the following targets set by the city in 5 areas to implement (8).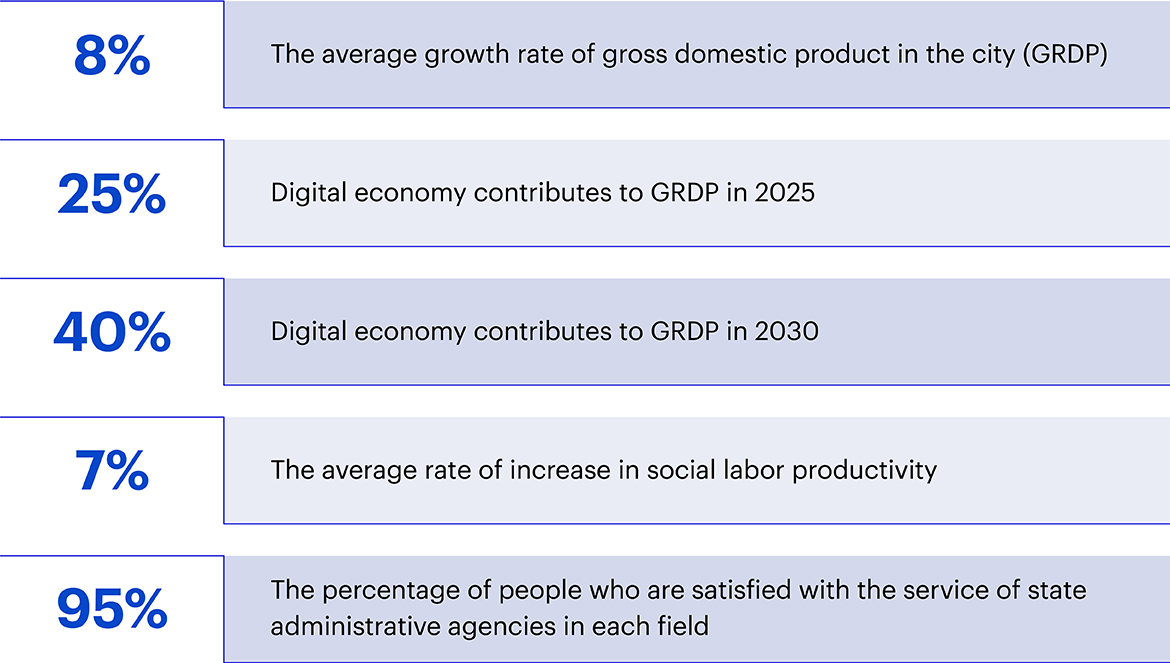 So far, the city has completed its shared data warehouse and smart urban operations center. The data from transportation, to electricity and water, incidents are updated in real-time for the relevant unit to handle timely and script the response. Residents also have the UDI Maps app that warns of flooding when it rains, or Ho Chi Minh City's TTGT, which is a warning app to avoid turning off the road, and My Parking allows you to find parking spaces in the city. There is also a smart camera system to measure the number of vehicles, record traffic violations (9).

In addition to the trend of smart city, there are smart industrial parks with IT applications, automation technology to improve production capacity and competitiveness. The direction of developing the planning of smart industrial parks is an opportunity to attract and connect domestic and foreign enterprises. In Vietnam, Many models have been planned and applied in many major provinces such as the VSIP (Urban-Service-Industrial Complex) project in Binh Duong, Bac Ninh or the experimental office of the Artificial Intelligence Society of Things Initiative (AI world society, abbreviated as AIWS) in Phan Thiet. The majority of industrial parks are stopping at basic responses to transport, electricity, water and waste treatment infrastructure. This will also be an opportunity to develop IT applications and improve infrastructure, towards a new model to meet the rapid development trend of the country and the world.
Clearly defining the appropriate development model for each region focusing on three core human, technological and governance factors will help maximize socio-economic and ecological efficiency. Thus, a smart city will entail development for the surrounding areas and the whole country.
Reference sources:
(1) European Union. Cities using technological solutions to improve the management and efficiency of the urban environment
(2) Forbes Việt Nam. Thành Phố Thông Minh
(3) Albert Meijer. 2016. Governing the smart city: a review of the literature on smart urban governance. International Review of Administrative Sciences 2016
(4) Accenture. 2017. How 5G Can Help Municipalities Become Vibrant Smart Cities
(5) IESE. 2020. IESE Cities in Motion Index
(6) London.gov. Smart London Plan
(7) Medinet.2019. 5 Dự án xây dựng Thành phố Hồ Chí Minh thành đô thị thông minh
(8) VUPDA. 3 trụ cột trong phát triển đô thị thông minh
(9) Báo Người lao động. 2020. Lần đầu tiên ứng dụng cảnh báo ngập TP HCM phát thông báo khẩn cho người dân