Approximately 70% of digital transformations fail, according to statistics, with digital culture and human culture accounting for 40% of the failures. Mr. Le Hung Cuong, who has experience consulting and training for many large enterprises in Vietnam, believes that, in addition to the other two pillars of business and technology, people are the most important factor in the digital transformation process. So, what steps should a company take to improve its human resources in order to master digital technology? Let's learn from the perspective of IT HR professionals.
Experts discussed "Human resource development – Mastering digital technology" in DxTalks Season 2-Episode 4. Mr. Le Hung Cuong, Deputy General Director of FPT Digital, Ms. Nguyen Thi Bich Hong, Managing Director of HR2B, and Mr. Nguyen Tuan Minh, Human Resources Manager of FPT Software were the guests on this episode. Our season 1 host, Mr. Vuong Quan Ngoc, Consulting Director of FPT Digital, returned for this episode.
In this episode, the experts discussed human resources as a determinant of success for deployment processes in digital transformation, not just in the field of information technology. They also examined the current digital resource needs of Vietnamese businesses, as well as the human factors to consider when implementing digital transformation. Finally, the benefits and drawbacks of digital transformation in the field of management
Digital transformation is taking place at a rapid pace within businesses, organizations, and communities, and it is beneficial to business operations. However, "digital transformation is not only applied in technology, but it is also about the person performing it, the method of implementing it, and for whom businesses do it," host Vuong Quan Ngoc began the discussion. Many statistics show that approximately 70% of digital transformations fail, with digital culture and human culture accounting for 40% of the failures.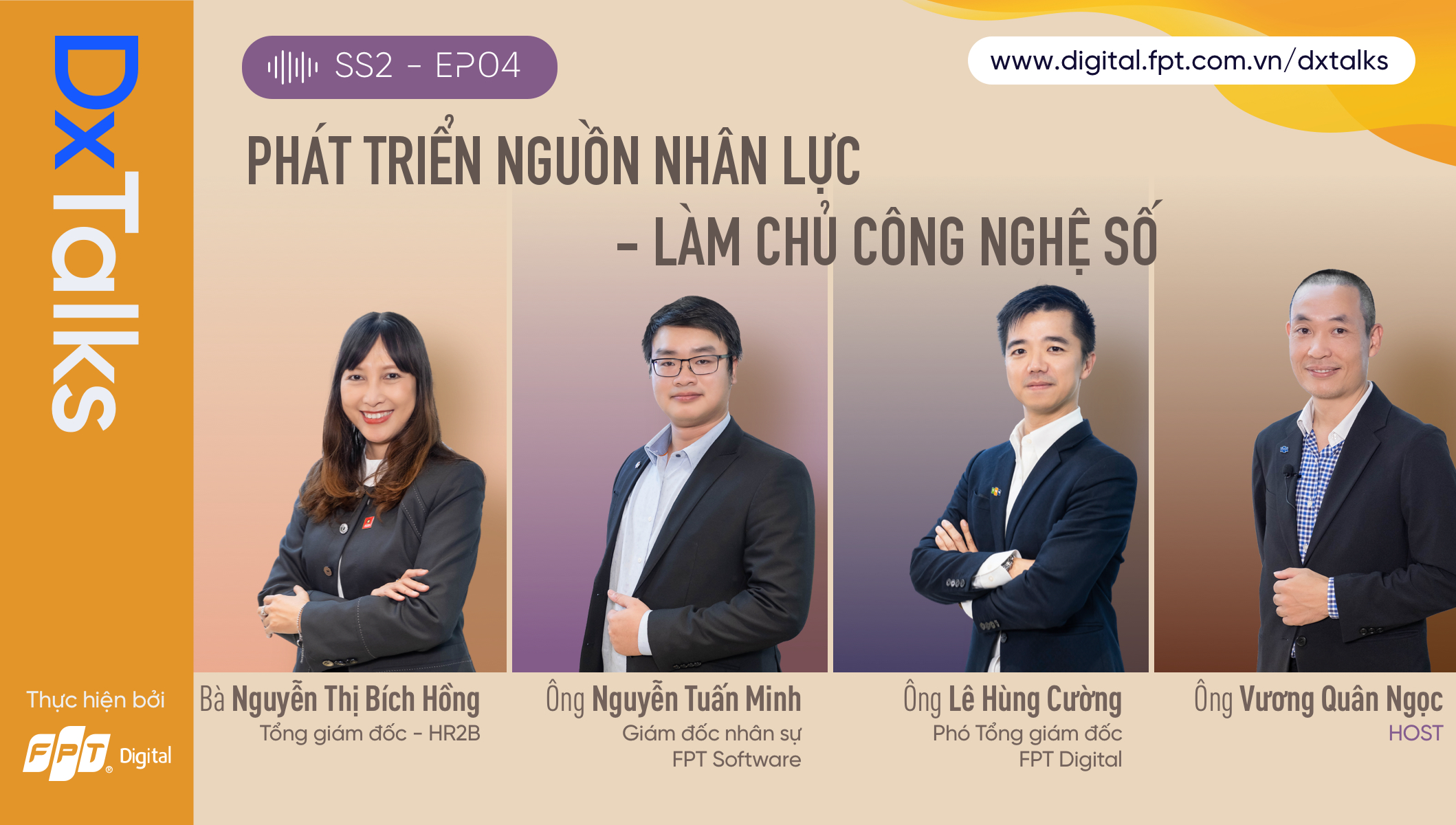 As a manager at FPT Software – a company that is rapidly expanding its human resources, particularly in the field of information technology, with 27,000 programmers and engineers working in Vietnam and around the world, providing digital transformation services, IT, BPO… – Mr. Minh stated that the demand for IT human resources is extremely high right now. According to him, the pandemic had no effect on human resources in the IT industry, but instead caused this industry to demand more human resources. This comes from the need for digital transformation. FPT Software competes for IT human resources not only with competitors, but also with partners in banking, finance, manufacturing, e-commerce, and logistics. "As the digital transformation wave sweeps across all industries, everyone sees digital transformation as the next necessary step." "In order to begin digital transformation, companies and businesses must first build an IT team, creating heat in the IT human resource market," Mr. Minh explained.
Ms. Nguyen Thi Bich Hong, who works in human resources, consulting, and providing personnel for businesses, agrees that, with the strong trend of digital transformation of today's businesses, digital media has become an indispensable part of social activities as well as business. Digital human resources is an ongoing problem for most businesses, particularly those seeking to undergo digital transformation.
Ms. Hong stated that there was a shortage of employees concentrated in the senior management team, in addition to a shortage of digital human resource experts, despite the fact that digital transformation must occur from the top down. She suggested that the first step in resolving this issue would be to train, followed by a diversification of resources. While looking for employees, it is possible to divide the work of more diverse employees. When remote working has become popular, diversification is also reflected in geographical factors. Using the services of personnel supply companies is another excellent option.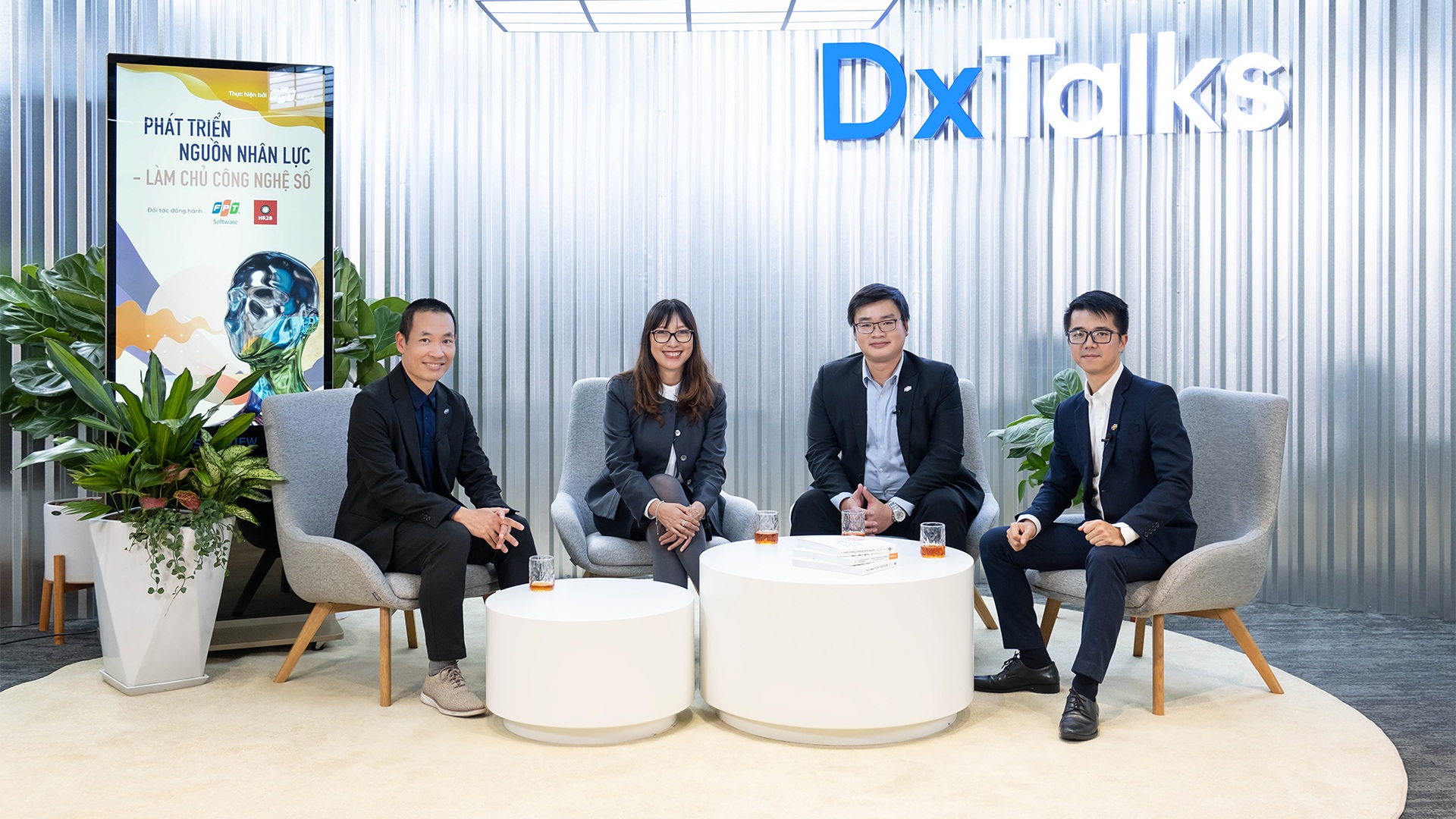 From the perspective of a digital transformation consulting company, Mr. Le Hung Cuong said that in digital transformation, the 3 pillars are business, technology and people. Most of the time, in businesses, the leadership team has only focused on the business when implementing digital transformation. Recently, when technology is on the throne, they talk a lot about technology. And businesses have not paid attention to the most important thing is that for digital transformation, people. They are the main focus of this transformation. 
According to Mr. Cuong, all officers and employees, who are directly or indirectly involved in business processes, production and operation of enterprises are the most important components in the entire digital transformation process. Whether the digital transformation succeeds or fails is due to the participatory HR process, from accepting it to supporting it. Often people are reluctant to change at first, so training and communication are important to help all levels understand the digital transformation program leading to active participation and full support. 
In the end of the talk, experts shared practical experiences in team training, solutions to motivate employees, how to build a digital culture in the business, etc. to aim for success in the process of digital transformation, helping businesses achieve their leading position in the market.