Mr. Nguyen Duc Minh, Consulting Director of FPT Digital, discussed the outstanding digital transformation trends in the real estate industry in Vietnam and made assessments on the "picture" of digital transformation, as well as the opportunities that digital transformation brings to the real estate industry.
On December 13, the Real Estate Forum 2022 was organized by Thanh Nien Newspaper with leaders from the Ministry of Construction, Ministry of Natural Resources and Environment, Ministry of Information & Communications, experts, and business representatives in the field of real estate and technology.
Mr. Nguyen Duc Minh – Consulting Director of FPT Digital, has commented that, for the specific market of Vietnam, there are both online and in-person transactions, therefore, it is essential to use technology to enhance the customer experience, improve the quality of customer care to help amplify their expertise and increase their level of brand attachment. Vietnamese real estate consumers are gradually adapting to online channels. And with the rise of the GenZ generation, the trends of high-tech applications in the real estate industry will soon increase, especially technologies with applications aimed at improving customer experience. Therefore, the real estate technology field (Proptech) has been more prominent in Vietnam and is expected to become a promising field with plenty of room for development.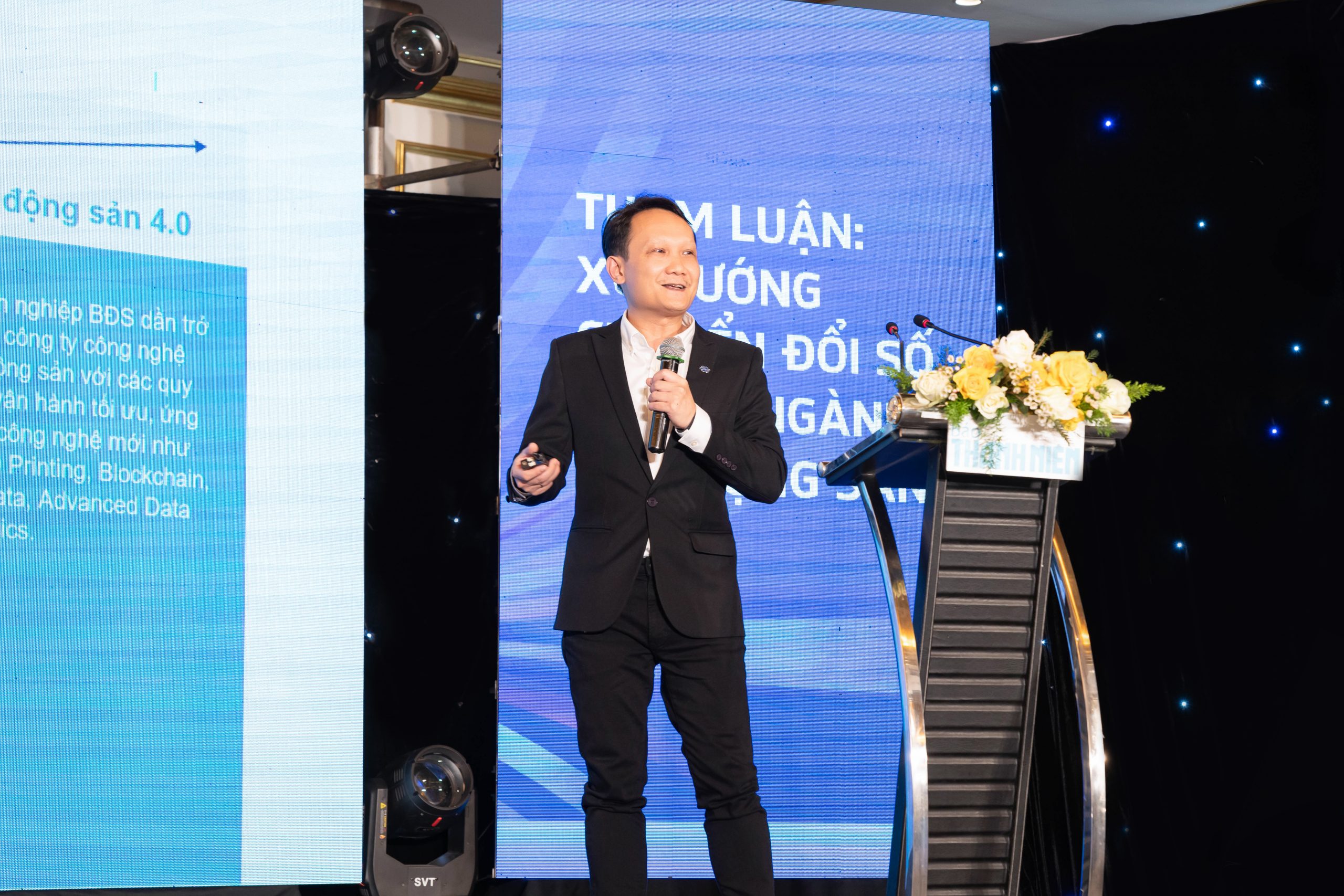 In his presentation, he also emphasized that an extensive digital transformation would be the driving force for the development of intelligent real estate products. Although digital transformation in the real estate industry is being implemented at different levels, they are all based on three main component strategies: improving operational management capacity, increasing customer experience, and developing new products and business models. Thanks to such breakthrough platforms like 'Smart building operation management system', 'Real estate project planning map data platform', or 'Real estate rating, valuation, and recommendation service model'… that help to manage and operate real estate, businesses have been able to improve and enhance their operational management capacity. Furthermore, they can enhance the experience for customers to transact and benefit from real estate, aiming to improve satisfaction and the opportunity to increase revenue from old customers and develop new customer files. Along with that is the appearance of new business models such as Co-living, Co-working… which will help cut costs, exploit new values, and maximize business profits.
In addition to the evaluations and comments from FPT Digital, the forum also discussed with representatives of the Real Estate Association, as well as a discussion on digital transformation and the role of Proptech in making the market transparent and sustainable.
"Real Estate Forum 2022: Proptech – the inevitable trend of the market" provides an overview for businesses related to the real estate industry on the "picture" of digital transformation as well as its impacts and opportunities that digital transformation brings in real estate; suggest solutions and recommendations for businesses to proactively adapt and digitally transform successfully.