In May 2023, FPT Digital was internationally certified as the Gold Class Consulting Service Provider in 2023 (Top Consulting Service Provider of the Year), at the 18th Globee Awards for Information Technology.
The annual Globee Awards is a prestigious award with over 11 categories honoring global individuals and organizations with outstanding contributions. FPT Digital becomes the first consulting company in Vietnam to be honored by the Globee international award in the category of Consulting Service Provider of the Year. The Supervisory Board consists of over 50 experts in the IT field from many large technology corporations such as Microsoft, Meta, Google, Intel…
FPT Digital has made a strong impression by implementing consulting services for digital transformation roadmap for various TOP VNR500 enterprises, such as the Vietnam National Petroleum Group, Vietnam – Russia Joint Venture Vietsovpetro, Minh Phu Seafood Corporation… Scoring 8.75/10, FPT Digital is certified at the highest rank, Gold, for Digital Transformation roadmap consulting services. This is an important milestone marking FPT Digital's ability to provide Consulting services.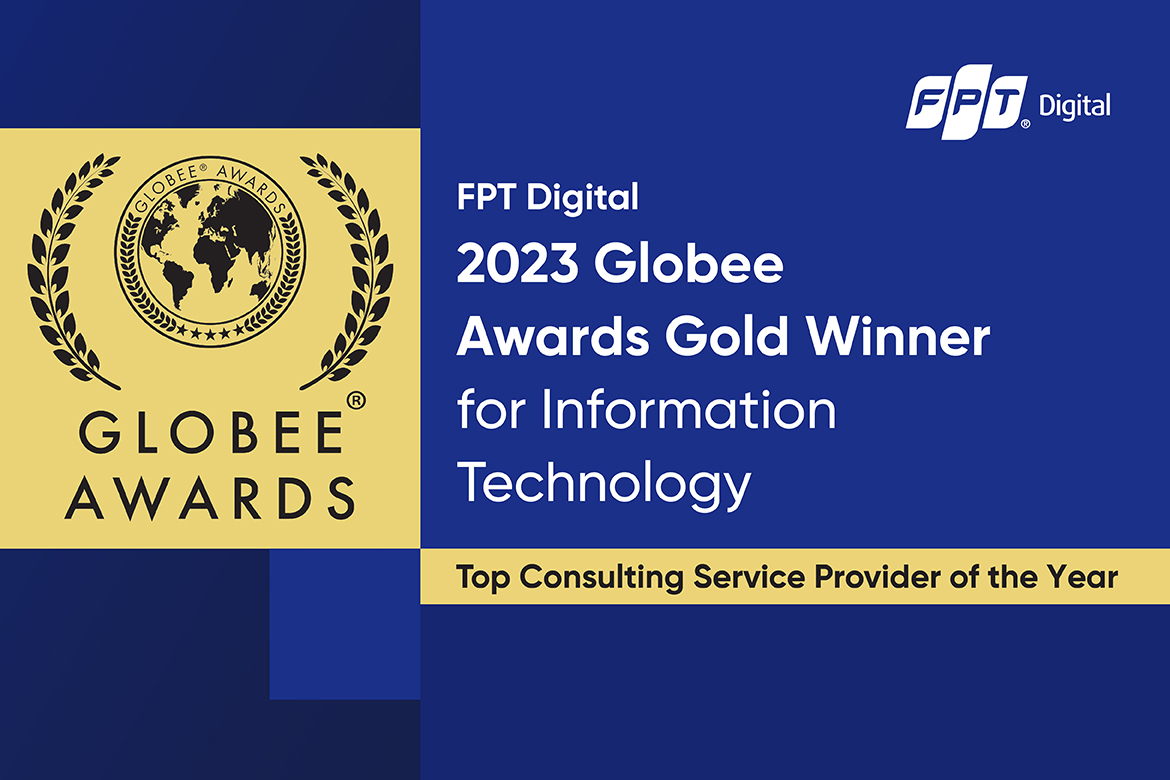 FPT Digital consults businesses on digital transformation based on the FPT Digital Kaizen™ Methodology. The methodology was refined from FPT's experience of 30 years of operating in the information technology field and hands-on experience from FPT's advisory board in digital transformation implementation for the world's leading enterprises. Moreover, the methodology was customized to suit Vietnamese businesses.
FPT Digital Kaizen™ consists of six steps of long-term partnerships between FPT Digital and our customers to understand the current state of the business as well as the short-term and long-term strategic goals they seek, thereby assisting businesses to "think big" on the overall digital transformation roadmap, "start smart" with priority digital initiatives, and "expand quickly" from successful short-term digital implementation initiatives. In order to comprehensively optimize all activities for businesses, FPT Digital's Roadmap Consulting service aims at three main goals: increasing revenue, improving labor productivity, and optimizing costs. The Digital Transformation Roadmap is divided into three phases: strategy development, survey and workshop, and roadmap design.

When projects come to an end, businesses complete the roadmap, ready for shaping the future of Digital Transformation to solve business problems. Based on the results, FPT Digital will coordinate with businesses to prepare resources for implementation, monitoring and evaluating effectiveness of each phase.
Enterprises will be able to accurately determine their current status, future, implementation order, and evaluation method thanks to the roadmap. Using the information gathered, enterprises can select effective methods of implementation to use and minimize the time, effort, and budget for implementation, as well as pre-determining potential risks to develop an optimized roadmap that adheres to the initial plan and strategic objectives.