According to experts, businesses need to step into digital transformation with the right approach, the roadmap needs to create a breakthrough and sustainable development in the future.
Gone are the days… self-diagnosis
If the period 2020-2021 is considered as the year to start digital transformation in Vietnam, 2022 will be the time when localities, organizations and businesses make breakthroughs with three supports: the support of the State; market readiness and the popularity of technology appropriate for each business size. 
However, some experts recommend not to follow digital transformation unwisely that causes businesses choose to burn money, invest in human and material resources massively or "self-diagnosis" transfer digital, applying non-selective or redundant technology solutions. 
A recent survey by the Vietnam Software and IT Services Association (VINASA) shows that 69% of businesses surveyed were unable to choose partners to help implement digital transformation, 72% were unknown how to start, 92% were unknown how to do digital transformation. 
"There are businesses before coming to us for advice, they have invested tens of billions dong for digital transformation, but the actual results are ineffective. Some units after digital transformation also increase the number of processes, departments connection is more confusing", Mr. Le Vu Minh – Director of Strategy and Innovation Consulting Division, FPT Digital emphasized in his statement within the framework of the Vietnam – Asia DX Summit 2022 event organized by VINASA. 
According to FPT Digital expert, digital transformation is a long journey but needs to be taken step by step and is not a money-burning game for technology. Indeed, the expert gives two recommendations for businesses when digital transformation: 
Firstly, units need to know where they are, need to have a "general physical examination" by leading experts to assess the level of digital maturity and have an appropriate digital transformation protocol. 
Second, digital initiatives need to be implemented quickly, even after only 3 to 6 months to bring about early results, called quick win. The benefits from the digital initiative will be reinvested in the next steps of digital transformation. 
With that approach, the cost of investment and resources will be suitable for the firms, it is possible to invest at a reasonable level to experience applications of new technology to a department before being applied across the organization. 
Digital transformation needs to be tailored to specific industry 
During the event, FPT technology experts shared experiences, initiatives and solutions for digital transformation for organizations and businesses in many key fields. There is no one-size-fits-all, so experts all say that digital transformation solutions need to be "tailored" for each industry group, real estate – construction, finance & banking, or ranging from global corporations to small and medium-sized companies. 
For example, in the field of real estate – construction, Business Development Director, Director of Digital Transformation Consulting Center/BCIS – FPT Information System Company said that there are two advantages when businesses successful digital transformation implementation: 
The first advantage is to increase customer experience value and operational efficiency, helping to push sales. Second, based on total digital transformation solutions, businesses can improve environmental and operational standards, increase labor productivity, thereby indirectly boosting stock value, company value, real estate increased. Shareholders also benefit from it. 
Sharing about the urgency of digital transformation according to industry specifics, Mr. Phan Hong Tam – Director of Cloud Technology Division, FPT Smart Cloud Company shared the real story of digital transformation for customers in the retail sector.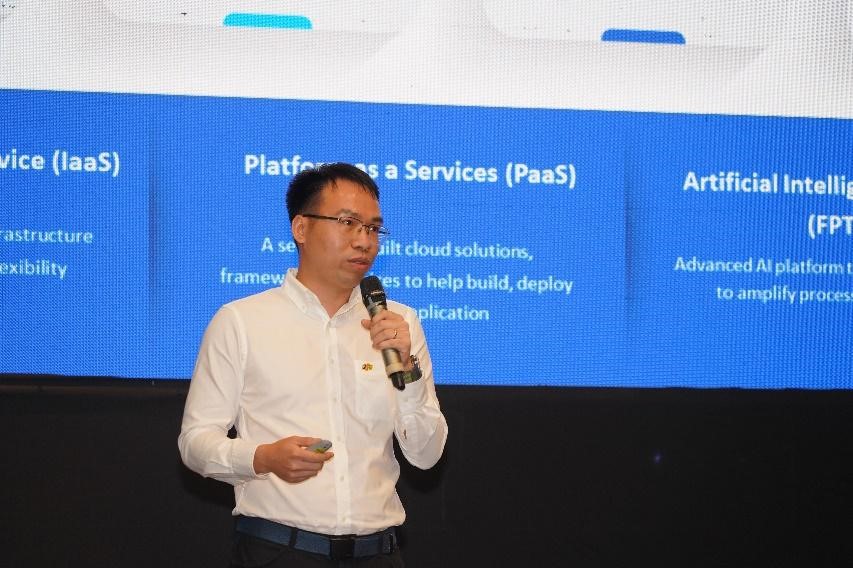 7 Eleven is a chain of convenience stores with dozens of stores and plans to expand to hundreds. The big challenge for 7 Eleven is to operate effectively when the effects of Covid-19 have a great impact on the supply chain as well as the high cost of operating and maintaining IT systems. 
"The challenge of a consumer retail business is to operate continuously, unstoppable even for a day," said Mr. Tam. 
FPT Smart Cloud has proposed the overall implementation of Cloud Server service. Moving all the data of hundreds of different servers to a single Cloud system still ensures uninterrupted operation of the store chain. Digital transformation, especially moving to the cloud, with flexibility and easy expansion is a right orientation of 7 Eleven to respond quickly to changes in the market and business strategy. 
"With the abundant suppliers in Vietnam and the support from associations, the government, as well as the convenience from the internet user market, firms in all fields, companies have many opportunities to continue to access to suitable digital transformation products and services", Mr. Le Vu Minh – Digital Transformation Consulting Director, FPT Digital emphasized. 
Source: CafeF