Inventory optimization is the very first level of S&OP. However, even with explicit inventory optimization objectives, Vietnamese enterprises have failed to execute S&OP properly and methodically. Mr. Doan Ngoc – Solution Consultant at Oracle Vietnam – then discussed the benefits of implementing S&OP, which include optimizing cash flow and enhancing customer satisfaction.
On DxTalks, Mr. Vuong Quan Ngoc – Consulting Director at FPT Digital specified 3 factors to optimize S&OP (Sales and operations planning): business model, technology and human.
In DxTalks S2 EP7 about Sales & Operation Planning in Manufacturing Sectors, FPT Digital invites guest speakers: Mr. Nguyen Anh Nguyen – Founder, Chairman and Chief Technology Officer at HATO Group, Mr. Doan Ngoc – Solution Consultant at Oracle Vietnam, Mr. Vuong Quan Ngoc – Consulting Director, Strategy & Technology at FPT Digital. The show was hosted by Mr. Pham Ho Chung – Consulting Director at FPT Digital.
In this episode, experts discussed these following contents: How to optimize S&OP process for higher efficiency, differences in status quo of S&OP application in Vietnam & worldwide, benefits of S&OP for businesses, which model to implement in digital transformation and how to build and deploy in synchronization with other large systems such as ERP, SCM, MOM/MES.
Manufacturer and supplier of markets want to simultaneously optimize the output according to their capacity to meet market consumption capacity and reduce the inventory. However, actual operations show that this has always been a difficult problem not only in terms of processes and data but also the way of communication, direction and coordination between different parties.
S&OP is one of the solutions that can help businesses solve this problem. It aims to develop a business plan that is agreed by all parties (producer, supplier, sales), and each stakeholder will provide important information and participate in the planning process as well as adjust their plan in the fastest and most timely manner. In fact, for most large corporations, high-level planning can apply S&OP with a wide range of products and complex production models.
At the beginning of the talkshow, Mr. Doan Ngoc gave a global overview of production and sales coordination planning and in Vietnam in particular. According to him, the first form of S&OP is inventory optimization. Although the goal of optimizing inventory is quite clear, Vietnamese businesses have not done S&OP properly and methodically. Mr. Doan Ngoc then shared about the benefits brought by S&OP, which is optimizing cash flow and increasing customer satisfaction.
Mr. Nguyen Anh Nguyen shares his previous experience on how to deploy and apply S&OP in businesses. Mr. Nguyen said that customer service has always been the most important concern of him and the businesses he has worked with when implementing S&OP. "Decisions from S&OP are never right or wrong, but rather the most logical conclusion. When building and perfecting the S&OP process at Unilever, we always look at the ability to put goods on channels to serve customers in the nearest week, month, and the nearest 3 months", Mr. Nguyen said. Good customer service helped reduce inventory from 2-3% to 0.5% while sales and profits increased immediately.
Mr. Nguyen said that when implementing S&OP, technology is important, but not the most important. Implementers must clearly understand that the introduction of technology is not an immediate opportunity for growth, but S&OP is a long journey and requires patience.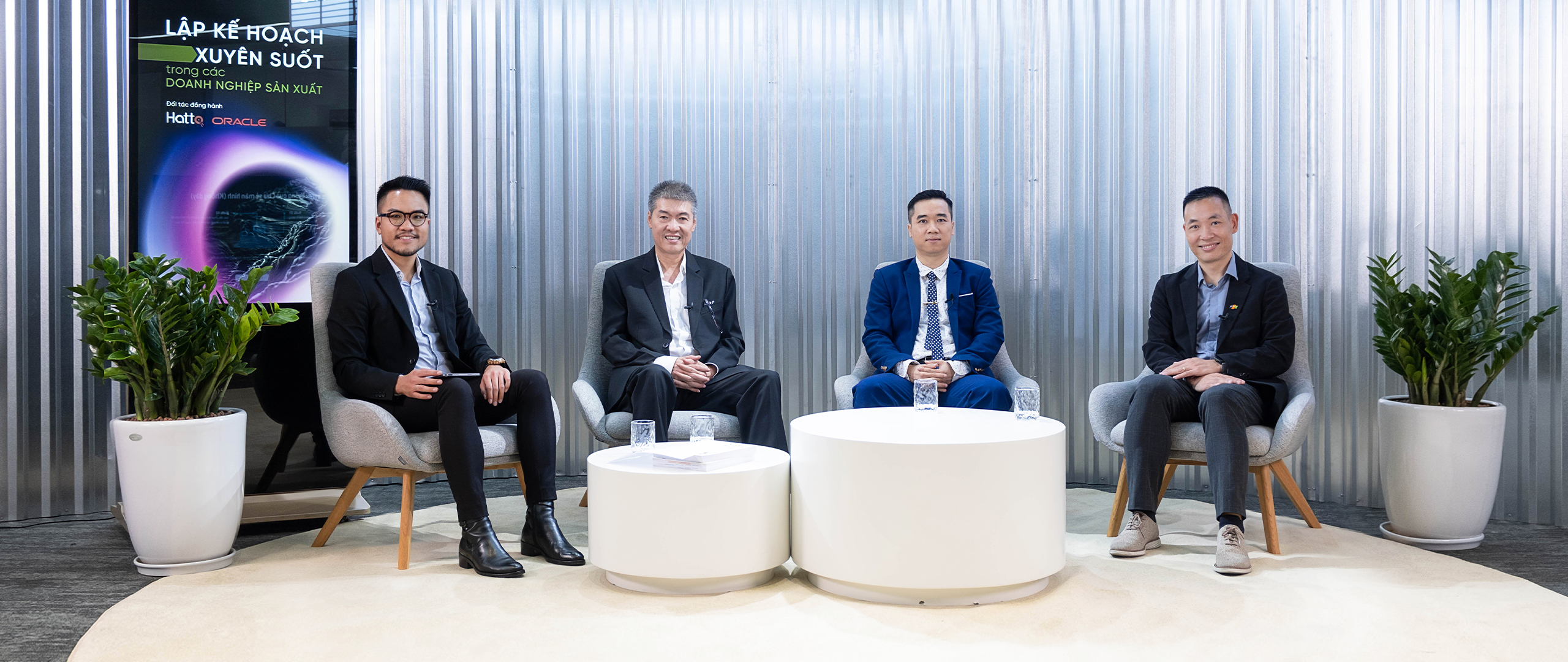 Having been the digital transformation consulting partner for many businesses, Mr. Vuong Quan Ngoc agrees that technology is an important, but not only, factor when planning to coordinate production and sales operations. In the digital transformation strategy, there are 3 components: business model, technology, and people. These 3 factors must go together to create a transformation. "S&OP is not a technology solution, so I think the first thing for businesses to start S&OP, they should start with combining of all 3 factors and determine the focus for further development", FPT Digital's expert emphasized.
Mr. Vuong Quan Ngoc also said that Vietnamese businesses currently have many opportunities in digital transformation and technology application. Many foreign businesses choose Vietnam as the center for digital transformation and the successes here will be replicated worldwide, including higher steps for S&OP. It is the level that addresses the sustainability factors, in addition to the parameters of inventory, price, depreciation, production capacity or customer satisfaction. On the other hand, S&OP is not only for manufacturing enterprises but also necessary for businesses in the fields of supply, wholesale and retail… Therefore, businesses can accompany each other, and may invite consulting firms to identify the roots of business model, technology, and culture needed to operate S&OP most effectively.
Source: VnExpress.