On December 1, 2021 in Hanoi, the Vietnam Digital Transformation Forum 2021 (Vietnam DX Summit 2021) took place the opening session on an online platform.
The event is organized by Vietnam Software and Information Technology Services Association VINASA to create opportunities for management agencies and businesses to exchange, discuss and propose solutions to speed up the digital transformation process in Vietnam, contributing to accelerate Vietnam to soon become a developed digital country. 
Attending the event, at the opening session with the theme "Accelerating Digital Transformation towards a Digital Vietnam", Mr. Tran Huy Bao Giang – CEO of FPT Digital shared about the method and roadmap to accelerate digital transformation for businesses, some practices and solutions, to help businesses obtain the golden moment for powerful transformation. 
Mr. Tran Huy Bao Giang said that Vietnamese businesses have been facing many difficulties when experiencing 4 waves of Covid-19. Up to 17.8% of businesses have a labor shortage due to the impact of the epidemic, the number of businesses temporarily suspending business increased by nearly 20% compared to 2020, moreover, 34% of businesses have difficulties to actively source capital to maintain operations, according to data from the General Statistics Office of Vietnam, the Ho Chi Minh City Business Association (HUBA), the Hanoi Small and Medium Enterprises Association. Even in the state of "the new normal", businesses are also facing the problem of how to recover as soon as possible and create momentum for growth, ensure health and safety, and ensure production activities. 
In order to solve the above difficulties and challenges for businesses, Mr. Tran Huy Bao Giang brought an objective view from FPT Corporation in the successful and effective application and implementation of optimal solutions productivity, operational cost savings, and success stories based on the Digital Transformation methodology.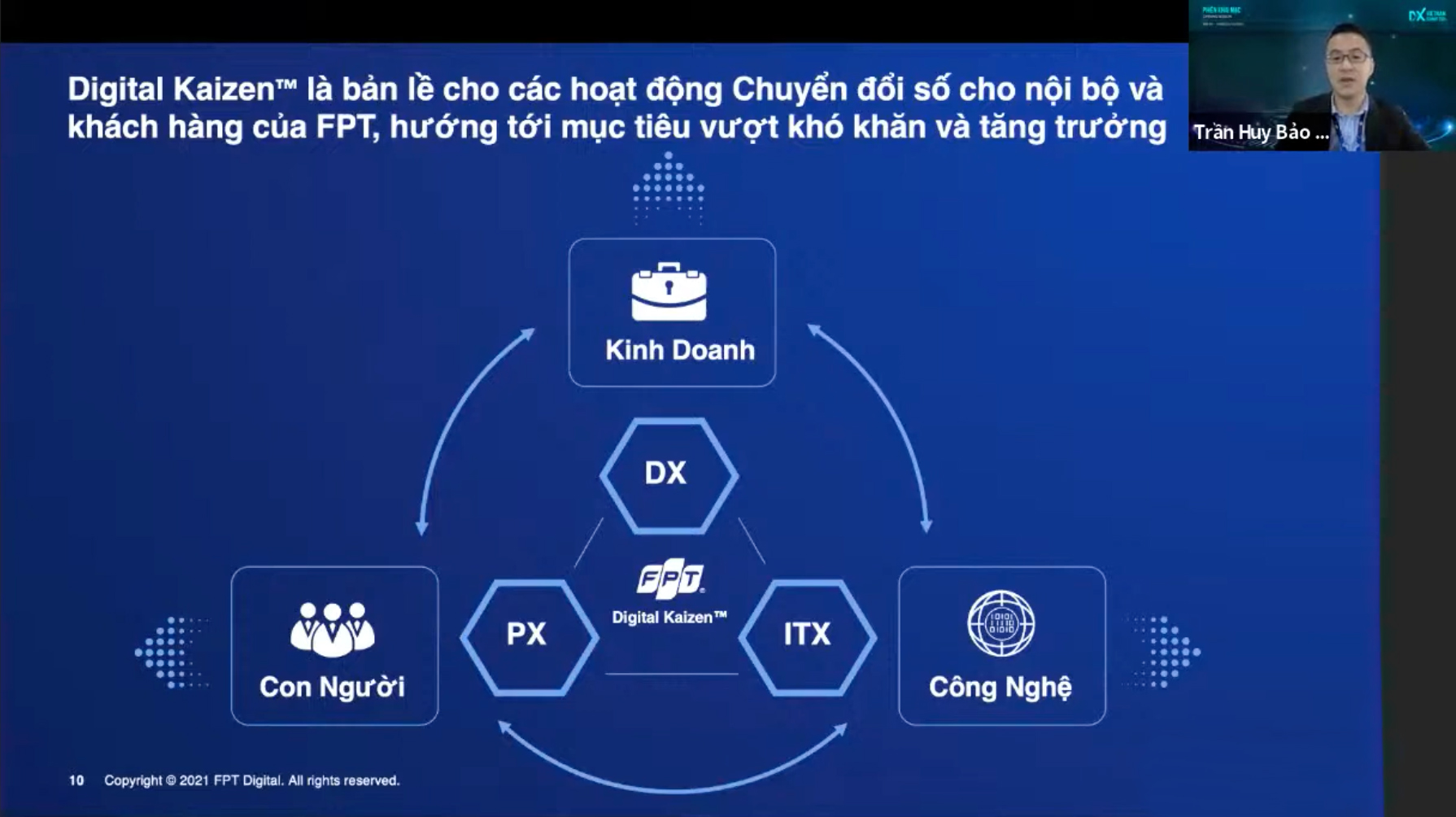 Following the opening seminar session on December 1, 2021, with the theme: "Accelerating Digital Transformation towards a Digital Vietnam", on December 2, 2021, Mr. Vuong Quan Ngoc – Consulting Director of FPT Digital attended Q&A session with experts. This is a live Q&A session with experts in digital transformation with many years of experience in the management and operation of agencies, businesses and organizations. 
At the Q&A session "General overview of digital transformation", Mr. Ngoc had practical sharing about the concept of digital transformation and digital transformation trends for small and medium enterprises, difficulties and challenges when implementing digital transformation to help businesses transform effectively and develop sustainably in the new technology era.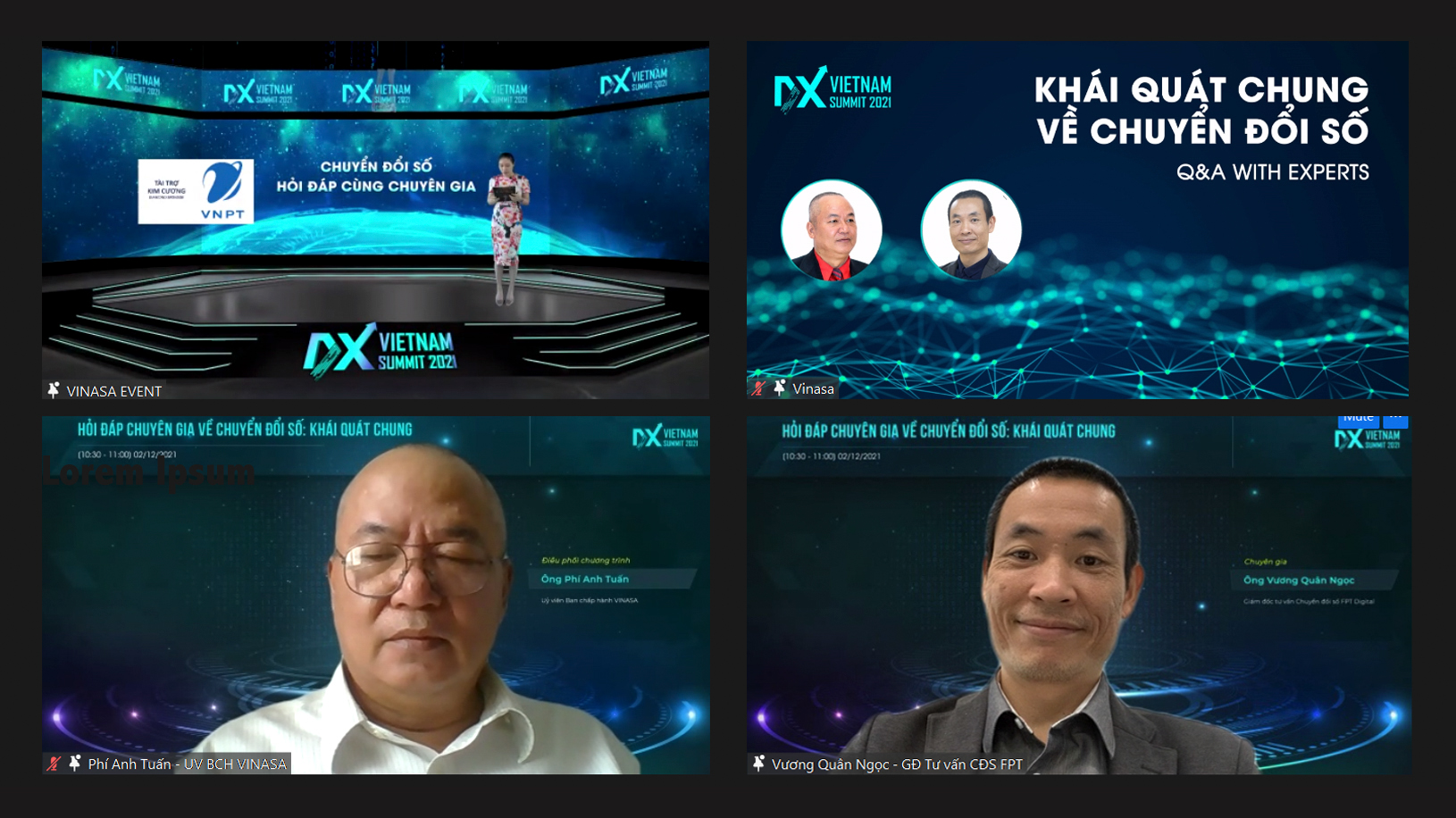 Within the framework of the Vietnam DX Summit 2021, on the afternoon of December 2, 2021, Mr. Le Vu Minh – Director of FPT Digital Innovation and Strategy Consulting Division attended a Q&A session with experts with the topic "The Digital Transformation Methodology" aims to provide a digital transformation perspective and approach in the journey from strategy formulation to implementation. 
Mr. Minh believes that the methodology will be one of the important answers to the questions: How can businesses succeed in digital transformation when digital transformation is a big story and creates many changes in the business? How can we balance between change and stability in this process? 
In the methodology, building a business's digital transformation strategy needs a harmonious combination of three factors: business, technology, and people. Not only that, businesses need to ensure that they have enough medium and long-term vision, with a focus on prioritizing immediate issues, thereby planning an appropriate roadmap for their businesses and organizations, towards the goal of sustainable development and growing growth.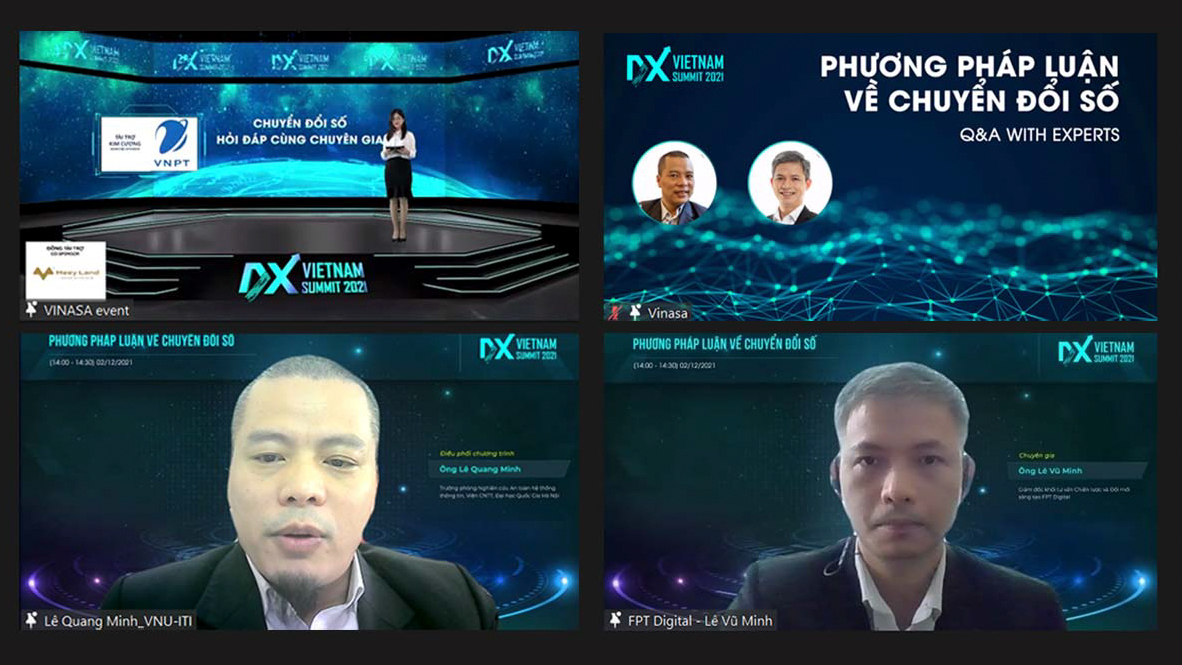 Digital transformation in Vietnam has brought unexpected results with unprecedented changes in all areas of socio-economic life. Awareness of businesses, management agencies and society about digital transformation is spreading rapidly and strongly. In addition to the goal of accelerating and further improving efficiency in the national digital transformation, this effective and positive transformation is achieved through the promotion programs of state agencies, government agencies and professional organizations, with the constant efforts of businesses, especially technology enterprises – the pioneering force of the comprehensive digital transformation process.